Timetable & Pick-up Location
Munich to Venice via Lake Bled
Route runs between 04 May - 03 Oct, 2020. Next departure is on Mon, 4 May.
08:00am

Munich

pick-up
13:00pm

Lake Bled

optional stop
14:45pm

Ljubljana

optional stop
18:00pm Venice drop-off
Munich to Vienna via Salzburg
Route runs between 09 May - 30 Sep, 2020. Next departure is on Sat, 9 May.
08:00am

Munich

pick-up
10:30am

Salzburg

optional stop
13:00pm

Grunau

optional stop
17:00pm Vienna drop-off
Munich to Paris via Stuttgart
Route runs between 15 May - 08 Oct, 2020. Next departure is on Fri, 15 May.
08:00am

Munich

pick-up
11:15am

Stuttgart

optional stop
21:30pm Paris drop-off
---
Coach meeting point
Wombat's City Hostel Senefelderstrasse 1 80336, Munich Germany
from €15.94
Recommended Accommodation
Wombats City Hostel Munich
We recommend you stay with Wombats City Hostel Munich. Rated 90% on Hostelworld.
We almost bump into the main train station (Hauptbahnhof) and are located close to the coach… See all included services and facilities
Busabout hand picks accommodation partners based on strict requirements to ensure our customers get the best possible experience.
Wombats City Hostel Munich
wombat's CITY HOSTELS - MUNICH is definitely the place to stay if you want to fully enjoy Munich. We're just a stone's throw from the main train station which also serves as the major public transportation hub. It's not much further to the old town (5-minute stroll) and we're also within close walking distance to the famous Oktoberfest grounds. wombat's CITY HOSTELS is proud to be one of the most experienced hostel chains (20 years of hostel knowledge!) and a background of award winning houses located all over Europe: Berlin, Budapest, London, Munich, Venice and Vienna. wombat's CITY HOSTELS offers safe, clean, quality accommodations. Spacious dorm rooms with ensuite bathroom and individual lockers in dorms for personal belongings. At wombat's MUNICH, we're especially proud of our air-conditioned, glass-roofed courtyard with real trees! Included + bedding + fast WIFI in the entire building + our own wombat's city maps + fully equipped guest kitchen (plus: free food section, free noodles and rice) + luggage room + welcome drink Additional features + our lively womBar serves affordable drinks/cocktails/snacks and offers happy hours and regular events (check out the Hostel Events section on this site below!) + breakfast buffet (for an additional fee): bread, muesli, yoghurt, cheese, spread, fruits, orange juice, milk, coffee, tea and much more + coin operated laundry facilities (washing and crying – ups, sorry about the typo, of course we mean drying), so you can re-vitalize your clothes ;) Cleanliness is not something to take for granted in many other hostels, but we do take this seriously: we have won the 'cleanest hostel worldwide' award multiple times. By travellers for travellers We have travelled the world ourselves - so we know firsthand what you are doing and what you expect from us. We care for you and also for your feedback. We make sure that you'll feel safe and welcome here. When you have been on the road all day long, seeing sights and walking and walking, it's cool to have a nice scene at the hostel where you can relax, have some beers, exchange travel ideas and make new friends. Among all the lovely details there's one thing that makes wombat's special; The hostel atmosphere that we all love, travellers sharing not only a space, but an experience. This will make your stay a memorable one! Please be aware that we have a minimum age of 18 years.
Service and Facilities
• 24 Hour Reception
• 24 Hour Security
• Adaptors
• Bar
• Bicycle Parking
• Board games
• Breakfast Not Included
• Common Room
• Cooker
• Dishwasher
• Dryer
• Elevator
• Telephone/Fax Facilities
• Free City Maps
• Free WiFi
• Fridge/Freezer
• Hair Dryers For Hire
• Hot Showers
• Housekeeping
• Internet Access
• Key Card Access
• Laundry Facilities
• Linen Included
• Security Lockers
• Luggage Storage
• Microwave
• Parking
• Pool Table
• Reading Light
• Tea & Coffee Making Facilities
• Towels for hire
• Utensils
• Vending Machines
• Washing machine
• Wi-Fi
General Information
Check-in: 14h —23h
CANCELLATION CONDITIONS Bookings can be changed (depending on availability) and cancelled up to 24 HOURS prior to arrival. In case of a No-Show or delayed cancellation request, the amount of the FIRST night will be charged. If you need to change the dates of your reservation, please let us know via e-mail. We need to know the name and the reference number of your reservation in order to help you. In case of a cancellation, we recommend to cancel directly through your Hostelworld profile, however, you are also welcome to contact us directly. GENERAL INFORMATION: Check-in starts at 2 p.m. Check-out is until 10 a.m. In case of an earlier arrival or later departure, you are welcome to use our luggage room meanwhile. You need a valid photo ID in order to check-in! No ID = No check-in! 24/7 front desk Payment upon arrival by cash, or cards (Visa, Mastercard, Maestro) Please note the property may pre-authorise your card before arrival. For Non-refundable bookings: In case of invalid credit card details, our team will contact you. You'll have 48 hours to provide valid credit card details, otherwise we reserve the right to cancel the reservation. All dormitories include: Power sockets Linen & bedding Personal locker (operated via key card) Please note: minimum age restriction is 18! Thanks for reading this. We wish you a nice trip and look forward to welcoming you! Your womCrew
Address and Location
Senefelderstrasse 1, Munich, Germany
wombat's CITY HOSTEL is located in a small side street next to the Hauptbahnhof (main train station). First of all: get off the train. Gnhn! Then, with the platforms in the back, quickly take the right exit out of the ugliest building in town onto Bayerstrasse. Cross the road, take a left and then turn into the first street on the right: Senefelder Strasse. Aim for the second house on the left side and look out for our banners saying...wombat's. (REALLY?!) From the airport: Take S-Bahn lines S1 or S8 to the main train station 'Hauptbahnhof' (the journey takes app. 45 minutes or 82.365 eye blinks), where you will find yourself in a maze of underground passages. Look for the exit to 'Bayerstrasse Ost'. After the escalator spits you onto the pavement, make a U-turn, cross Bayerstrasse, turn left and then first right into Senefelder Strasse. wombat's is the second house on the left. Still. -grin- From the ZOB (main bus terminal): Well. There are 2 ways: the easy and the interesting one. On the easy path simply walk up the stairs to the bridge spanning the train tracks (where today's kids hang out, sitting on the steel beam and watching the industrial sundown), head for the middle part and look for the way down to the city train ("S-Bahn", green sign). You can take any line one stop to the main station ("Hauptbahnhof"). From there see above. If you can't wait to explore (good for youuuu!) then follow the road to the exit onto "Arnulfstraße", turn right and continue to the first crossroads. To the right you'll see a dark and dreary tunnel… yes. Exactly. Take heart and head into the tunnel and IF! you manage to emerge in one piece on the other side, turn left into Bayerstraße and continue straight until "Senefelder Straße" on the right. If you're still alive we will welcome you heartily with two well earned free drinks at No. 1. Takes about 15-20min. Follow meeeee…….gollum!
Price from €15.94 per person
Activities & Day Tours
Dachau Memorial
In March 1933, Heinrich Himmler ordered the construction of the one of Germany's first concentration camps in a small town near Munich; Dachau. During the Nazi regime, social, ethnic, and racial enemies were imprisoned in Dachau - the only concentration camp to remain active during the entire Third Reich period. At the time of liberation, over 200,000 prisoners from more than 30 nations had been imprisoned there. Explore the Dachau memorial which has become one of the most important centres of remembrance, contemplation, and learning in Germany today.
Operated by Sandemans New Europe
Busabout Price: €24
Normal Price: €28
Neuschwanstein Tour
Towering over rocky crags at the foot of the German Alps, Neuschwanstein Castle has inspired awe and wonder ever since it opened to the public in 1886. This tour is a full-day, fairytale adventure that is not to be missed! Take in the splendour of the village of Hohenschwangau and the neighbouring castle of Neuschwanstein and discuss the famous Lohengrin legend while overlooking the Alpsee. At the end of the tour, we attempt to unravel the ambiguity of King Ludwig II of Bavaria, who wished to 'remain an eternal enigma'. Will you be the one to
Operated by Sandemans New Europe
Busabout Price: €45
Normal Price: €48
Free Walking Tour
See all the top landmarks of Munich and discover the stories behind great sights such as the Glockenspiel, the Hofbrauhaus (the world's most famous beer hall) and the Frauenkirche. Hear tales of the Bavarian royal family, the turbulent 20th century and the early days of the Nazi Party. Of course no visit would be complete without discussing why beer matters so much to Bavarians and why it tastes so good.
Operated by Sandemans New Europe
Busabout Price: FREE (tips-based)
Normal Price: N/A
Third Reich Tour
Hitler called Munich 'Die Hauptstadt der Bewegung' (the Capital of the Movement); the city and its surrounds were central to the rise to power of the Nazi leader. This tour will examine the infamous streets where some of the darkest stories of human history took root and grew into Hitler's dictatorship. Munich emerged from almost complete destruction during the Allied WWII bombings and was restored but the scars still remain.
Operated by Sandemans New Europe
Busabout Price: €13
Normal Price: €15
Must See & Do in Munich
The City
Munich (München) is truly the capital of all things Bavarian. It's a heady mix of world class museums, historic sites, cosmopolitan shopping, exhausting nightlife, trendy restaurants, roaring beer halls, vast parks and, of course, Oktoberfest.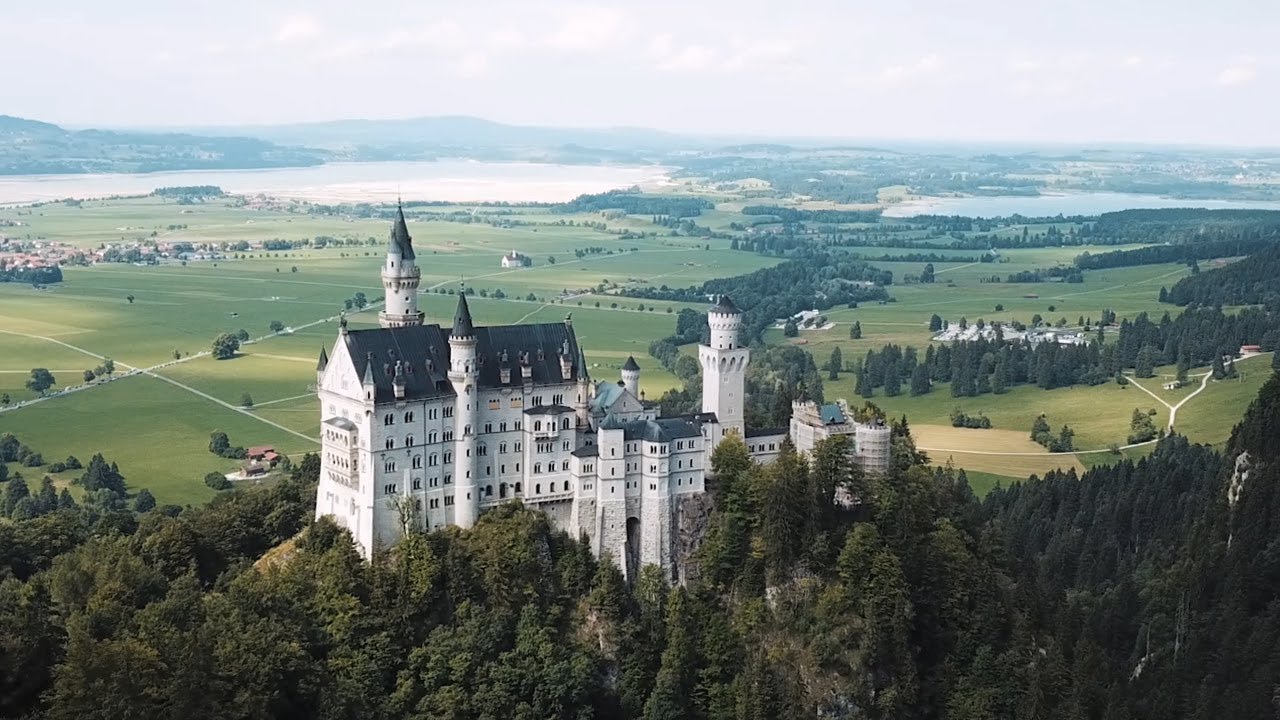 Top things to see
Marienplatz (St Mary's Square) The city's central square since 1158, where you'll find the Old and New Town Halls and an impressive gold column with Mary on the top.
The English Gardens Enormous public garden, great for walking, biking, watching the river surfers or avoiding the nude sunbathers.
Allianz Stadium: Home of FC Bayern Munich This 75,000 seat stadium is famous for it's inflatable plastic panels on the exterior.
Frauenkirche (Cathedral of Our Lady) The symbol of Munich; this twin domed church has plenty of legend associated with it.
Residenz The lavishly decorated former residence of Bavarian royalty, trying to show off to their arch enemies the Austrians.
FOODS TO TRY:
Schweinshaxe & Käsespätzle
There are countless tasty things to try in Bavaria but the classics tend to be pork knuckle and cheese spätzle, a kind of pasta. Both should be available at any beer hall or traditional restaurant, and might be served alongside some sauerkraut or potatoes.
HIDDEN GEM:
Der verrückte Eismacher
An ice cream shop where the focus is on the unusual- there's beer flavour, cream cheese, strawberry champagne, and more… they're not stingy with samples and the service is very friendly.