Timetable & Pick-up Location
Paris to Amsterdam via Bruges
Route runs between 01 May - 30 Sep, 2020. Next departure is on Fri, 1 May.
08:00am

Paris

pick-up
13:00pm

Bruges

optional stop
18:00pm Amsterdam drop-off
Paris to Lautterbrunnen via Bern
Route runs between 28 May - 25 Sep, 2020. Next departure is on Thu, 28 May.
08:00am

Paris

pick-up
17:15pm

Bern

optional stop
18:30pm Lauterbrunnen drop-off
---
Coach meeting point
JO&JOE Paris 89 Avenue Paul Vaillant Couturier, 6 Etage - JO&JOE , Paris, France
from €23.00
Recommended Accommodation
JO&JOE Paris - Gentilly
We recommend you stay with JO&JOE Paris - Gentilly. Rated 89% on Hostelworld.
Located between the Porte d'Orléans and the Porte de Gentilly, a 5-minutes walk from the Cité… See all included services and facilities
Busabout hand picks accommodation partners based on strict requirements to ensure our customers get the best possible experience.
JO&JOE Paris - Gentilly
JO&JOE is a house open for all, a cool and caring social hub! For people travelling alone, in pairs or in groups, we offer an ideal and appropriately priced shared or private accommodation in Paris - Gentilly. As well as serving the best hot dogs in town and awesome cocktails, we also have a self-serving beer tap system! Located right in front of the biggest Parisian campus, the JO&JOE Paris-Gentilly is ideally located with the B line RER train that will take you directly to the center of Paris. At JO&JOE people either come from the other side of the world or just live one block away. They gather to enjoy a fresh, simple and homemade cuisine as well as refreshing drinks and the 450 square meters garden. The stage welcomes artists every week and our events program brings travelers and locals together. The Happy House is part of the experience at JO&JOE Paris - Gentilly: it is a social space for inhouse guests only. You will find everything you need to prepare yourself a snack or chill with your new friends. Located between the Porte d'Orléans and the Porte de Gentilly, a 5-minutes walk from the Cité Internationale Universitaire de Paris and 10-minutes from the Charlety Stadium. JO&JOE is located next to the RER B line which is directly connected to the center of Paris (20 minutes) and to Roissy-Charles-de-Gaulle Airport (45 minutes). Orly Airport is only at 35 minutes. The Tramway T3 is very close and will get you to the Paris Convention Center and Paris Expo Porte de Versailles where lots of events and congress take place every year (cars, design, fashion, farming...). Under age children are not accepted in the shared rooms. A selction of travel products are available at the frontdesk: power adaptator, headphones, shower gel...
Service and Facilities
• 24 Hour Reception
• 24 Hour Security
• Adaptors
• Air Conditioning
• ATM
• Bar
• Board games
• Book Exchange
• Breakfast Not Included
• Cable TV
• Cafe
• Card Phones
• Cots available
• Dryer
• Elevator
• Free City Maps
• Free City Tour
• Free Internet Access
• Free WiFi
• Foosball
• Hair Dryers For Hire
• Hot Showers
• Housekeeping
• Internet Access
• Iron/Ironing Board
• Key Card Access
• Late check-out
• Linen Included
• Security Lockers
• Luggage Storage
• Meals available
• Meeting Room
• Outdoor Terrace
• Parking
• Reading Light
• Restaurant
• Follows Covid-19 sanitation guidance
• Tours/Travel Desk
• Towels for hire
• Wheelchair Friendly
• Wi-Fi
General Information
Check-in: 15h —23h
JO&JOE Paris-Gentilly conditions & policies: Cancellation policy: 2 days before arrival. Check in from 15:00 to 23:00 . Check out from 05:00 to 10:00 . Payment upon arrival by credit cards, debit cards. Taxes not included. Breakfast not included - 6 EUR per person per day. General: No curfew. This property might pre-authorize your credit card. The maximum period of stay is of 14 days.
Address and Location
89 Avenue Paul Vaillant Couturier, Paris, France
PUBLIC TRANSPORTATION: RER B : direct line to Charles de Gaulle Airport. Stop at Gentilly. TRAM T3A : stop at Cité Universitaire. ORLY BUS : direct bus line to Orly Airport. Stop at Charlety Stadium. CAR / BUS : Paris-Ring Road exit D920 to Porte d'Orléans. TRAIN : All major Parisian train stations. AIRPORT : Roissy-Charles-de-Gaulle and Orly.
Price from €23.00 per person
Activities & Day Tours
Day Bike Tour
Our Day Bike Tour is the best way to get oriented with the city and get a great overview of its history. We'll stop in front of the most famous museums and monuments in Paris, sharing fun anecdotes and important information at each place. About half-way through the tour, we'll stop for lunch in the beautiful Tuileries gardens which look onto the Louvre. Highlights include the Eiffel Tower, Les Invalides & Napoleon's Tomb, Place de la Concorde, the Louvre, and much more!
Operated by FAT TIRE TOURS
Busabout Price: €28
Normal Price: €34
Night Bike Tour
By visiting the Latin Quarter and the islands, you'll have the opportunity to see the City of Lights at its best! At the end of the tour, enjoy one of Paris' famous river cruises with a complimentary glass of red wine! This tour is the perfect complement to our Day Bike Tour. Highlights include Notre Dame, Ile St. Louis, St. Chapelle, Pont des Arts, the Louvre, and much more!
FAT TIRE BIKE TOURS COMBO DEALS
Day & Night Bike Tours: Busabout Price: € 52 Normal Price: € 66
Operated by FAT TIRE TOURS
Busabout Price: €38
Normal Price: €44
Versailles Tour
Journey back in time with us in Versailles! Revel in the over-the-top decadence, harmonious open spaces, and luscious splendor of an intricately-landscaped paradise just a short ride from the capital. Walk around enchanted grounds and reveal the stories of the shamelessly self-indulgent kings, queens and consorts of 17th and 18th century France. Unravel the glory of the Sun King, the stifling court etiquette, and the scandals that ignited the Revolution.
Operated by Sandemans New Europe
Busabout Price: €30
Normal Price: €33
Paris Je T'aime - Cabaret
A revue at the Nouvelle Eve is on the borderline between "music-hall" and "cabaret." A clever mixture of feathers and conviviality, humour and boldness, Paris Je T'aime is also a tribute to the capital's rich artistic history through the music of the legendary Edith Piaf. The highlight of the show is the renowned French can-can: this 12-minute scene, complete with the splits, showing breeches, raising laces and frous frous, will take your breath away! Price includes 1 drink.
Operated by LA NOUVELLE EVE
Busabout Price: €60
Normal Price: €79
Cabaret 'Féerie' & Champagne
Go on, treat yourself to the ultimate Parisian spectacle! 'Féerie' consists of a troupe of 100 artists, including 60 Doriss Girls recruited world-wide; 1,000 feather costumes, rhinestones and sequins, made in the most famous Parisian workshops; sumptuous sets in shimmering colours, uniquely designed by Italian artists; outstanding international acts, and the awaited return of the giant aquarium; all this performed to original music recorded by 80 musicians and 60 chorus singers. Price includes half a bottle of champagne. Duration: 2 hours.
Operated by MOULIN ROUGE
Busabout Price: €110 weekdays / €120 weekends
Normal Price: €112 weekdays / €122 weekends
Montmartre Tour
Montmartre typifies all things quintessentially Parisian, from terrace cafes to romping bars and clubs, drunken can-can dancers to budding street artists and performers, bourgeoisbohemian apartments to tiny cobblestone streets. This tour will show you all that made Vincent Van Gogh, Toulouse Lautrec, Claude Monet, Pablo Picasso and Salvador Dali want to call this eclectic district home.
Operated by Sandemans New Europe
Busabout Price: €14
Normal Price: €16
Pub Crawl - Paris
This is an international pub crawl for locals, backpackers and students. You want to go beyond the standard tourist trails and discover the very best nightlife in Paris? This tour is made for you! We love Paris and we want you to love it too!
Operated by PARIS PUB CRAWL
Busabout Price: €12
Normal Price: €13
Montparnase Tower
Straight in and straight up for an unforgettable experience – just 38 seconds and you're 210 metres above Paris, contemplating the very best view of the city there is! Just like the Empire State Building and the London Eye, the Montparnasse Tower Observation Deck gives you a totally unique view of Paris and its monuments, far from the queues for the Eiffel Tower!
Operated by World Wide Attractions
Busabout Price: €16
Normal Price: €17
Free Walking Tour
From its beginnings as a medieval village to the capital of Napoleon's empire, from beheadings of the French Revolution to the excitement of La Belle Epoque, this tour will show you Paris as it was meant to be seen; by walking along the banks of the Seine, and through its royal gardens and squares. Our expert guides will bring to life the stories of Paris, and give you an authentic introduction to continental Europe's most visited city.
Operated by Sandemans New Europe
Busabout Price: FREE (tips-based)
Normal Price: N/A
Must See & Do in Paris
The City
What can be said about the sexy, sophisticated City of Lights that hasn't already been said a thousand times before? Quite simply, this is one of the world's great metropolises, a trend-setter, market-leader and cultural capital for over a thousand years and still going strong. This is the place that gave the world the cancan and the cinematograph, a city that reinvented itself during the Renaissance, bopped to the beat of the Jazz Age and positively glittered during the belle époque (beautiful era).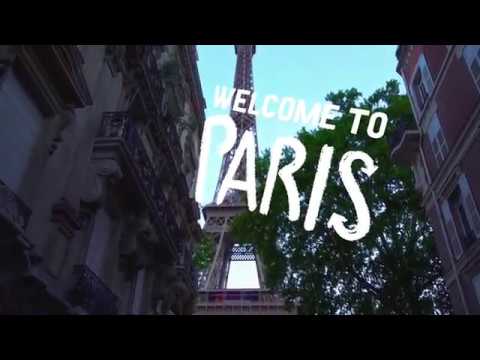 Top things to see
The Louvre One of the world's premier art museums, home to the Mona Lisa, Venus de Milo, and 17km worth of corridors.
Eiffel Tower The symbol of Paris, this Iron Lady has seen a lot- admire the city from the top of just picnic in her shadow on the Champ de Mars.
Notre Dame One of the finest examples of French Gothic architecture, this church is as beautiful inside as it is out.
Montmartre District/Basilique du Sacré Coeur The white domed basilica of the Sacre Couer overlooks the bohemian neighbourhood of Montmartre, where artists like Vincent van Gogh once lived and institutions like the Moulin Rouge thrive.
Palace of Versailles Experience the decadence of the last French Royalty and the extravagant Chateau of Versailles, just a short train ride from Paris.
FOODS TO TRY:
Pierre Herme Macarons
While it's impossible to choose just one food to try whilst in Paris, the worldwide trend of macarons means you should have them done right at least once, by worshiping at the altar of pastry demigod Pierre Herme.
HIDDEN GEM:
Promenade Plantee
This disused 19th century railway viaduct was reborn as the world's first elevated park. Located between Bastille and Vincennes, you can exit Jardin de Reuilly and have a picnic or continue some 4.5 km to Bois de Vincennes.