Timetable & Pick-up Location
Route runs between 02 May - 01 Oct, 2020. Next departure is on Sat, 2 May.
08:00am

Amsterdam

pick-up
18:00pm Berlin drop-off
Approx duration 10h. Coaches will pick-up passengers every 2 days.
---
Coach meeting point
ClinkNOORD Badhuiskade 3, 1031 KV Amsterdam, Netherlands
from €14.00
Recommended Accommodation
ClinkNOORD
We recommend you stay with ClinkNOORD. Rated 90% on Hostelworld.
ClinkNOORD is located in Badhuiskade in Amsterdam Noord. With Centraal Station only a 5-10 minutes… See all included services and facilities
Busabout hand picks accommodation partners based on strict requirements to ensure our customers get the best possible experience.
ClinkNOORD
*Due to our commitment to your safety all Dorm rooms will only be occupied by a maximum of 50% of the amount of guests it's usually meant for. For example our 6 bed en-suite dorm will currently only have a maximum of three guests staying at once.* ClinkNOORD – A creative hostel Why ClinkNOORD? Complete with original laboratory features, a spacious atrium and a lively bar, ClinkNOORD is the perfect hostel for travellers looking for a unique Amsterdam experience. Located across the IJ river, just 10 minutes from Amsterdam Centraal Station, ClinkNOORD is right in the heart of the action. 24hr RECEPTION Our reception is open 24/7 so there's always someone available if you need help! Arriving late? Our night team can check you in no problem. DORMITORIES We offer 4 – 18 bed mixed and girls only dorms both with and without en-suite bathrooms. We also offer single, twin and double private rooms with and without bathrooms. BAR Our on-site bar (ZincBAR) is the place to head to soak in the sounds of live music, chat with friends or just relax with a cold drink. C-LAB Artists, musicians and writers are regulars at ClinkNOORD. Catch them performing in the ZincBAR or working on their latest pieces in our gallery space, C-LAB. BEDS All of our beds come with reading lights, USB ports to charge your electronic devices and secure lockers for your belongings. BREAKFAST We offer a great value, all you can eat buffet breakfast, €8.00 a day. (To be booked directly with the hostel or on arrival) FREE WiFi There is free Wi-Fi in all our hostels, so you can keep in touch with friends and family whilst on your travels. SECURITY As well as 24/7 key card entry, each bed comes with a lock box to keep yourself and all your belongings safe. There are also larger lockers available at reception. SELF-CATERING KITCHEN Our guest kitchen has all the things you need to cook a tasty feast! Open from 7am – Midnight (12am) LAUNDRY ROOM Coin-operated washing machines are available at the hostel. 40-minute cycle + washing powder = €4.50. 45-minute drying cycle = €1.50. PARKING We don't have any parking available at the hostel. However, you have two options for paid parking close-by: 1) On Street – Asterweg and Distelweg Best recommendation BUS + CAR – after 7pm free parking – Amsterdam North Distance from hostel:From ClinkNoord to Asterweg is 10 min. walk. Costs: €1,40 Per Hour between 09am and 7pm. Between 7pm and 9 am is free to park here. Where to pay: This whole street is industrial with offices. Almost every corner is provided with a parking machine. Your license plate will be registered in the machine after payment, no receipt needed to leave in the car. Extra infoNo secured parking, take valuables out of the car. 2) Underground – A'DAM Toren / EYE Filmmuseum 24H secured Parking garage – Amsterdam North Distance from hostel:from ClinkNoord to ADAM Tower is 1 minute – Behind the building of Clink Navigate to 'Bercylaan' and follow the signs Costs: €1,15 per 20 minutes / €44,00 per 24 hours. (Only Maestro and Creditcards) Where to pay: Inside the underground garage / reception A'dam Toren Extra info: Secured 24 hours, owned by the A'DAM Tower. Reserve a spot via www.adam-parking.com Please make sure to read the hostel's Terms & Conditions before booking. Special conditions apply for group bookings (20 guests or more), please contact the hostel directly. Please make sure to read the hostel's Terms & Conditions before booking. Special conditions apply for group bookings (10 guests or more) and Stag/hen parties, please contact the hostel directly.
Service and Facilities
• 24 Hour Reception
• Adaptors
• Bar
• Board games
• Book Exchange
• Breakfast Not Included
• Cafe
• Common Room
• Cooker
• Dryer
• Elevator
• Flexible NRR
• Free City Maps
• Free WiFi
• Fridge/Freezer
• Foosball
• Games Room
• Hair Dryers
• Hot Showers
• Housekeeping
• Internet Access
• Key Card Access
• Self-Catering Facilities
• Laundry Facilities
• Linen Included
• Security Lockers
• Luggage Storage
• Meals available
• Meeting Room
• Pool Table
• Reading Light
• Follows Covid-19 sanitation guidance
• Tours/Travel Desk
• Towels for hire
• Utensils
• Vending Machines
• Washing machine
• Wheelchair Friendly
• Wi-Fi
General Information
Check-in: 14h —23h
Please note: ●Passport, driver's license or government issued identity card required upon check-in. ●If the name on your booking is different to the name on the card used to the confirm the booking, the hostel may request a copy of your ID or card for legal reasons. ● Guests can check-in until 4am. Guests will only be able to access their room from 2.30pm. A luggage room is available for guest use if they arrive earlier than 2.30pm. Check out time is 10am. ● Note that all dorms are mixed unless a girls' dorm is booked. ● Guests that wish to bring their children under 16 years of age must book whole dorms or private rooms. ● Bookings cannot be accepted from any underage person unless they are accompanied by an adult over 18. They will be refused check-in. ● When booking dorm beds in dorm rooms, the hostel cannot guarantee that guests travelling together will be staying in the same room. We suggest booking private rooms or whole dorms if guests want to ensure they're together. ● For stag/hen parties, please contact us directly. Clink reserves the right to deny entry to anyone who has booked online and is part of such a group. ● If you wish to cancel or amend your reservation and avoid full charges for your booking, please ensure you notify us by email as soon as possible and at least 48 hours prior your arrival date . Passed this time, I am afraid full charges will incur. A 7% City Tax is added to this rate at the time of payment. As well as a €3 per night per person tourist tax. Please note these taxes only show up in your Clink confirmation and not Hostelworlds. ● In the event of Force Majeure (governmental action; fire; flood; insurrection; earthquake; power failure; riot; explosion; embargo, transportation interruption of any kind; terrorist attack; acts of God…) affecting your booking, the company reserves the right to receive any outstanding payments in connection to your confirmed booking. ● A great-value buffet breakfast is available for EUR 8. ● For Standard rate bookings, please note that the balance is charged 48 hours prior to arrival. ●This property may pre-authorise your card before arrival. Groups (+15 people) ● We accept groups from age 12+. ● You will be asked to pay a 20% non-refundable deposit a week after booking is made. The balance will be required 4 weeks before arrival. ● One group leader will be required to give a credit card upon arrival for a "Group Deposit". This will need to be the card holder. We will pre-authorize the card for €300 in case of breakage or for not respecting coach stopping/parking rules. ● If your group is arriving by coach, make sure to contact us for information on where to stop and park. ● If you do not inform us by email when booking we cannot guarantee for your group to be in the same rooms and depending on availability your booking might be cancelled.
Address and Location
Badhuiskade 3, Amsterdam, Netherlands
ClinkNOORD is located in Badhuiskade in Amsterdam Noord. With Centraal Station only a 5-10 minutes journey away, the hostel is well connected to the heart of Amsterdam. From Amsterdam Centraal Station When you arrive at Centraal Station, follow the signs to the ferries. From here, jump on the free ferry (24/7) to 'Veer Buiksloterweg' which only takes 5 minutes and runs every 7 minutes (departs every 15 minutes during the night). From the boat, ClinkNOORD is only 400m away. When you get off the ferry, turn left straight away. Walk straight ahead across the bridge towards the EYE Film Museum and the A'DAM Tower. Once you've crossed the bridge, turn right immediately and walk straight along the canal, with 'The Butcher' restaurant on your left. Keep following the canal for about 50 meters and ClinkNOORD will be on your left. It's a big brown building with a 'CLINK' sign outside – you can't miss it!
Price from €14.00 per person
Activities & Day Tours
Countryside Bike Tour
Explore the greener corners of Amsterdam you wouldn't discover on your own! Your expert guide will navigate you through the lowlands where you will be blown away by breath-taking landscapes. Have a look at traditional farms, be impressed by how the Dutch have expertly managed flooding (one third of the Netherlands lies below sea level), learn about their delicious cheese and marvel at the tallest wooden windmill in the country.
Operated by Sandemans New Europe
Busabout Price: €22
Normal Price: N/A
City Bike Tour
No visit to Amsterdam is complete without coasting along the city's canals by bike. From windmills and breweries to picturesque views of the canals – you will take in all the important sights on this easy-riding two-hour tour. Do as the Dutch do and take in this beautiful city on two wheels!
Operated by Sandemans New Europe
Busabout Price: €22
Normal Price: N/A
Free Walking Tour
This FREE walking tour covers the main sights of Amsterdam's inner city. Experience the history of this city, from its start as a muddy village on the River Amstel, to how it became the most important trading city in Europe. From the wild history of prostitution and drug decriminalization, to the tragedy of Anne Frank's story and Nazi occupation, this tour is the perfect introduction to Amsterdam.
Operated by Sandemans New Europe
Busabout Price: FREE (tips-based)
Normal Price: N/A
Red Light District Walking Tour
Join an experienced guide who will steer you through the diverse life along the streets of the Red Light District. Discover what Amsterdam's oldest and most controversial neighbourhood has to offer - from coffee shops to sex theatres and fetish stores, find out the realities and fictions of one of the most popular attractions in Europe.
Operated by Sandemans New Europe
Busabout Price: €14
Normal Price: €16
Alternative Amsterdam Tour
Delve into the real Amsterdam - the side of the city that locals love, and that visitors come to experience. Explore the origins of Amsterdam's society, such as the post-WWII housing crisis that began today's current phenomenon of living in boats or in squats, and the counter-culture movements that developed into today's unique atmosphere, including the city's most famous coffeeshop, and the street art hidden in the city centre.
Operated by Sandemans New Europe
Busabout Price: €12
Normal Price: €14
Must See & Do in Amsterdam
The City
Amsterdam is a top contender in Europe's beauty pageant, it's right up there with Venice and Paris but will never win it: it's too busy with funky mellow bars and unparalleled nightlife. Amsterdam has always been like this, ever since the Golden Age, when it led European art and trade. Centuries later, in the 1960s, it again led the pack – this time in the principles of tolerance, with broad-minded views on drugs and same sex relationships taking centre stage. Wander the 17th-century streets, tour the iconic canals, stop off to enjoy a masterpiece, discover a funky shop and taste cuisines from all over the world.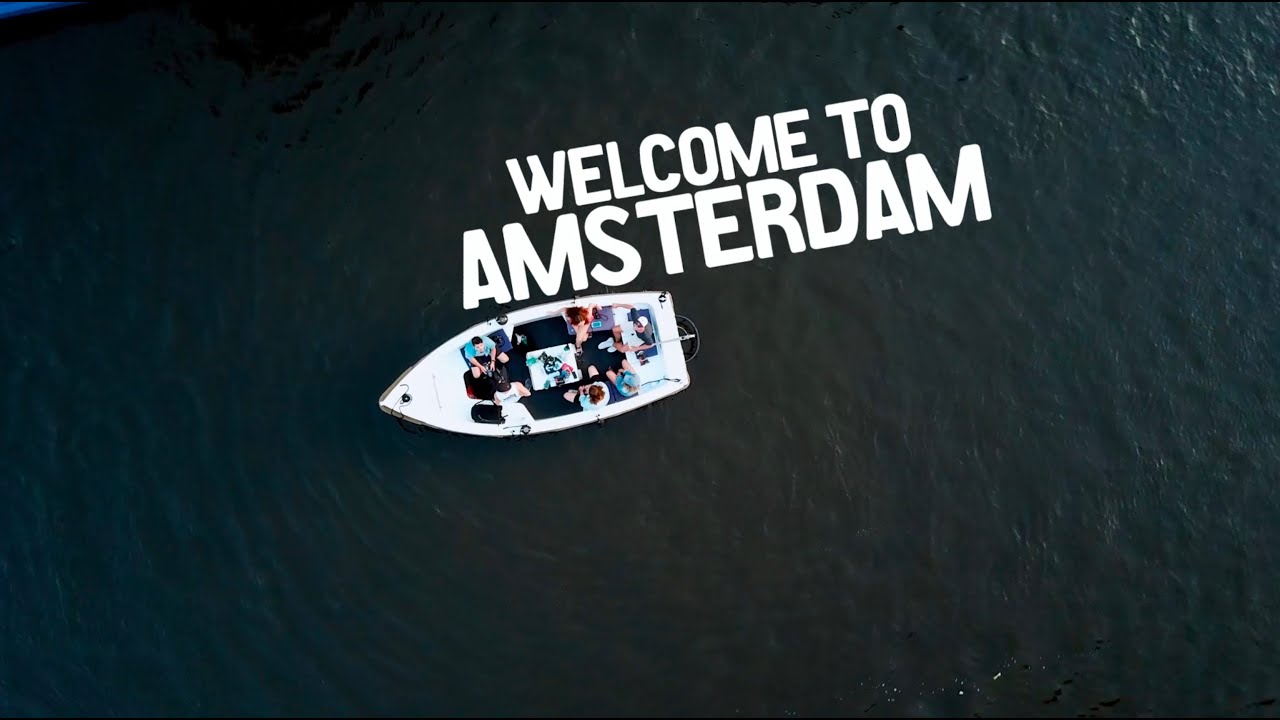 Top things to see
Museum of Prostitution Learn about Amsterdam's unique approach to and tolerance of the world's oldest profession.
Heineken Experience Explore the history of the beer giant in a former brewery, with a tasting to finish.
Anne Frank Huis Museum based in the original house where the Frank family, alongside several others, hid from Nazi persecution for two years before they were discovered.
Rijksmuseum, Museumplein The Dutch national museum tells the story of the arts and history of the city. It's located in museum square and surrounded by other museums such as the Stedelijk and Van Gogh.
Bloemen-markt The world's only floating flower market.
FOODS TO TRY:
Stampot
The traditional Dutch dish of mashed potatoes, vegetables and sausage.
HIDDEN GEM:
Fresh Stroopwafel
Supermarket varieties abound, but real deal stroopwafel (caramel waffle) is harder and harder to find these days. Albert Cuyp market not only has a fresh stroopwafel stand, but is also located in the hip De Pijp district, perfect for bar hopping or a spot of vintage shopping.