Timetable & Pick-up Location
Route runs between 11 May - 02 Oct, 2020. Next departure is on Mon, 11 May.
11:00am

Zakopane

pick-up
19:00pm Budapest drop-off
Approx duration 8h. Coaches will pick-up passengers every 2 days.
---
Zakopane pick-up & drop-off point and the recommended accommodation details is coming soon. Use the below information as a guide on what to expect.
Coach meeting point
Good Bye Lenin Hostel Zakopane Chłabówka 44, 34-500 Zakopane, Poland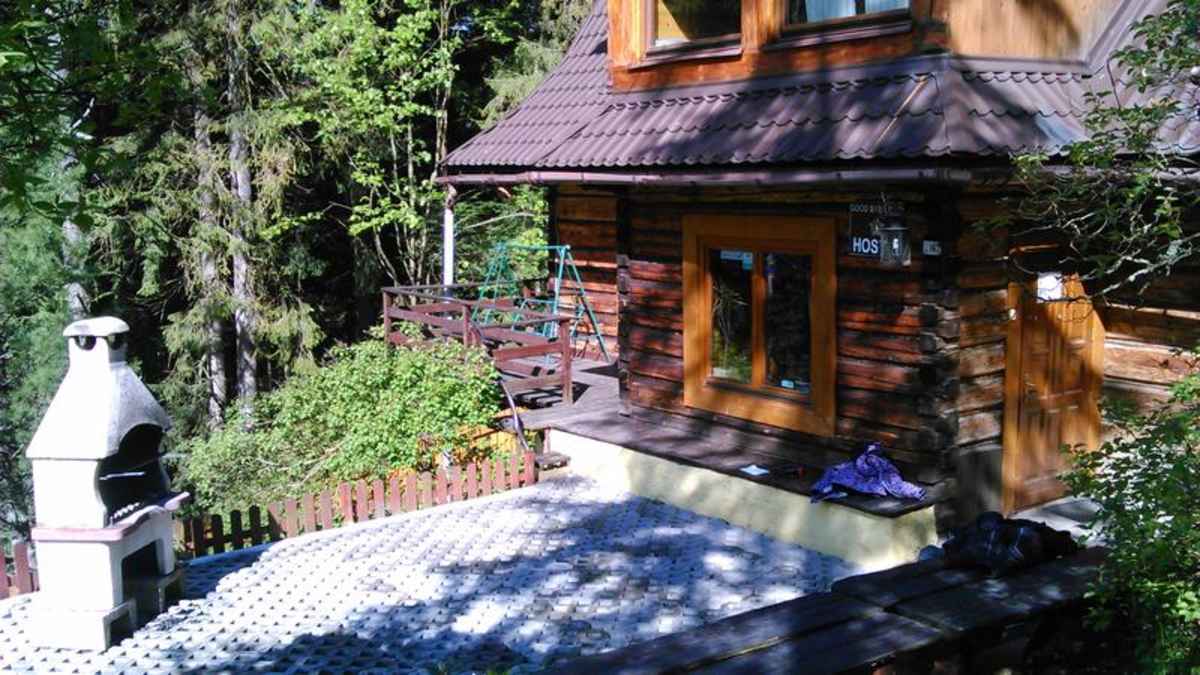 Good Bye Lenin Hostel Zakopane
We recommend you stay with Good Bye Lenin Hostel Zakopane. Rated 91% on Hostelworld.
The hostel is situated just outside of Zakopane, on the way to Cyhrla and Morskie Oko. We're 3… See all included services and facilities
Busabout hand picks accommodation partners based on strict requirements to ensure our customers get the best possible experience.
Good Bye Lenin Hostel Zakopane
Looking for a place to escape the city, reconnect with nature and hike your ass off? Look no further! Hidden away in the forest, yet still very accessible, there's a magical place called Good Bye Lenin. The main hostel is a beautiful cabin build in 1909. It's cosy living room with free breakfast makes for the perfect place to start the day. And what better way to end an adventure filled day than with a cold beer and some delicious food from our BBQ. Our hostel is in the middle of nature, yet the nearest bus into town (and to the Morski Oko lake), mini market and entry to the national park are just a 5 minute walk away. Hiking, kayaking, horse riding, mountain biking, climbing.. You name it. Pretty much every outdoor sport is possible here. And our international staff, who are mountain lovers themselves, are more than happy to help you out with recommendations and tips. Sometimes, however, it is time to relax. Mao (the hostel cat) needs cuddling and Majka (the hostel goat) is always up for a deep conversation. Reenergize for the next day of endless fun. To get a taste of what your stay at Goodbye Lenin could be like, just have a look at our Facebook page 'Zakopane Goodbye Lenin Hostel'. Or better yet, drop by for a visit ;) See you soon, Mao, Mia, Majka and the rest of the GBL staff
Service and Facilities
• 24 Hour Reception
• 24 Hour Security
• Airport Transfers
• BBQ
• Bicycle Hire
• Bicycle Parking
• Board games
• Free Breakfast
• Common Room
• Free Internet Access
• Free Parking
• Free WiFi
• Hair Dryers For Hire
• Hot Showers
• Internet Access
• Self-Catering Facilities
• Laundry Facilities
• Linen Included
• Security Lockers
• Luggage Storage
• Meeting Room
• Mini-Supermarket
• Nightclub
• Outdoor Terrace
• Parking
• Reading Light
• Tea & Coffee Making Facilities
• Tours/Travel Desk
• Towels for hire
• Washing machine
General Information
Check-in: 0h —23h
Cancellation policy: 48h before arrival. In case of a late cancellation or No Show, you will be charged the first night of your stay.
Address and Location
44 Chlabowka, Zakopane, Poland
From Krakow to Zakopane: 1.Take a bus leaving to Zakopane every 20 min from the Central Bus Station in Krakow. (~18zl / 2h15min) From Zakopane Railway / Bus Station: 2. a) Take a bus 11 (every 1h) or microbus (every 20 min or so) to CYRLA / BRZEZINY (~3zl paid to the driver / 5-10min) leaving from a parking in front of the main bus terminal b)Get off at the bus stop JASZCZUROWKA which is next to the entrance to the Tatra National Park and right after a bridge. c.) Follow the road for 20 meters, then turn the first street left from the main road (where you see the sign of Hotel 'Lesnik'). d.) Pass a guesthouse on your left, cross the little creek, then follow the road for 50 meters to the end of the road. Here a warm welcome awaits you.. 3. Taxi from the center: 20-30zl. (tell you want to get to the parking of Hotel Lesnik and then follow the road to the end) 4. And if the above sounds too complicated for you, we will try to arrange private transportation for you from Krakow / Krakow Airport straight to the door of the hostel! (groups preffered - eg. car transport from Krakow for groups up to 4 people for 250zl - that's just 60zl or 15 Euro per person! Private minibus transport for groups also available)
Price from €9.92 per person
Must See & Do in Zakopane
The City
Nestled in the foothills of the Tatra mountains, this resort village will quickly become one of your favourite hideaway destinations. Skiing and snowboarding in winter, hiking and exploring in summer, with cute village markets all year round - what more could you ask for?
Top things to see
Krupowski Street This is the main street in Zakopane filled with cute kiosks, cafes, souvenir shops and a large market to explore.
Gubalowka Get hiking or take the cable car; either way you're going to get to enjoy the stunning views and scenery.
Old Church and Cemetery The beautiful wooden church and adjoining cemetery date back to the mid 19th century, and are well worth a visit.
Museum of Zakopane Style This was the first of several grand wooden villas constructed in the 'Zakopane Style', which has been restored and fitted to its original state.
FOODS TO TRY:
Pierogi
The classic eastern European dumplings with a variety of tasty fillings like onion, mushroom, mashed potatoes, meat, cheese and cabbage.
HIDDEN GEM:
Morskie Oko
If you're up for a day trip, you can make your way to this stunning emerald-green mountain lake. About 45 minutes on the bus to the start of the trail, and then get ready to walk - about 2 hours each way. Trust us, it's worth it!