Timetable & Pick-up Location
Route runs between 13 May - 04 Oct, 2020. Next departure is on Wed, 13 May.
10:45am

Zadar

pick-up
19:00pm Venice drop-off
Approx duration 8h15m. Coaches will pick-up passengers every 2 days.
---
Coach meeting point
Hostel Forum Široka ul. 20, 23000, Zadar, Croatia
from €16.00
Recommended Accommodation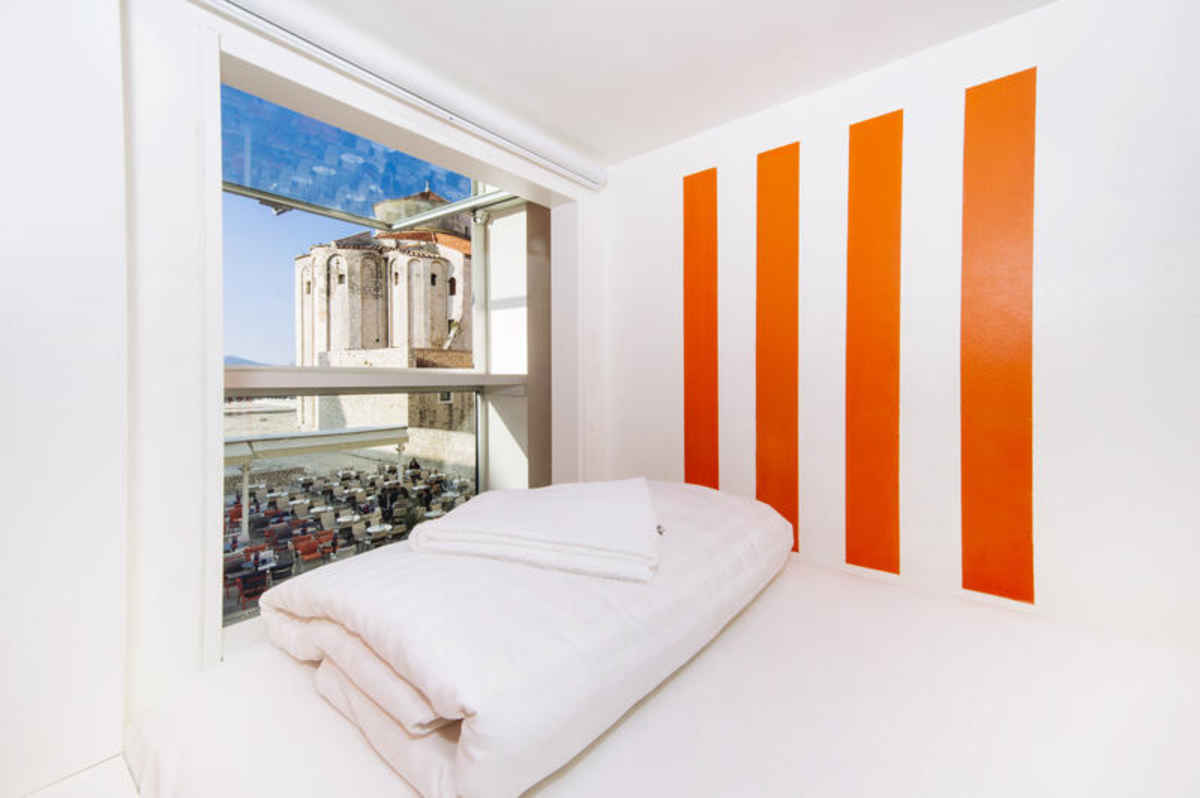 Boutique Hostel Forum
We recommend you stay with Boutique Hostel Forum. Rated 92% on Hostelworld.
Boutique Hostel Forum is located at the very centre of Zadar, a perfect starting point for touring… See all included services and facilities
Busabout hand picks accommodation partners based on strict requirements to ensure our customers get the best possible experience.
Boutique Hostel Forum
Boutique Hostel Forum welcomes all types of guests by offering group accommodation in four bed dormitory with own shower/toilet and more intimate private twin rooms. All rooms have air conditioning, bedding and fresh towels with no additional cost. Funky backpackers who prefer four bed dormitory, we compliment with a cool breakfast to go, and guests who stay in private twin rooms have all you can eat breakfast included in the price. Private twin rooms also have mini bar, safe, telephone and TV set. We can't forget to mention our services: -wi-fi at every corner of the hostel free of charge, -24- hour reception welcomes you day or night, -external and internal lounge , -laundry service, -iron and ironing board at no charge, -self catering where you can try out your mum's recipes, -vending machines for drinks and snacks, -power adapters loan.
Service and Facilities
• 24 Hour Reception
• Adaptors
• Air Conditioning
• Bar
• Bicycle Parking
• Breakfast Not Included
• Cable TV
• Common Room
• Telephone/Fax Facilities
• Free City Maps
• Free Internet Access
• Free WiFi
• Fridge/Freezer
• Hair Dryers
• Hot Showers
• Housekeeping
• Internet Access
• Iron/Ironing Board
• Key Card Access
• Self-Catering Facilities
• Laundry Facilities
• Linen Included
• Security Lockers
• Luggage Storage
• Meeting Room
• Outdoor Terrace
• Pool Table
• Reading Light
• Follows Covid-19 sanitation guidance
• Tea & Coffee Making Facilities
• Towels Included
• Vending Machines
• Washing machine
• Wi-Fi
General Information
Check-in: 14h —23h
Check-in: from 14:00 Check-out: 10:00 We have a 24hr cancellation policy. Late cancellations and no-shows shall be charged the equivalent of the first nights accommodation. City tax is not included in the price and is 1,35 Euro per person/day. We accept payment by cash and credit card. 24-hour Reception: The joyful and courteous faces of our receptionists will welcome you day or night with wide open arms and an open door. Take it easy and enjoy whatever you're doing - the Forum is always open for its guests. 24- hour host: Boutique Hostel Forum also has a host available 24/7, to guide you and to solve any problem you may have. He will give you a short course of Croatian language in order to brighten up your journey and to enrich your stay.
Address and Location
Siroka ulica 20, Zadar, Croatia
From the main bus station to the centre: Option 1. CITY BUS- lines 2 or 4 called 'Poluotok', takes 10 min and costs 10 HRK Option 2. TAXI- takes 5 mins and costs 30 HRK Option 3. WALKING- takes 15-20 min and it's free of charge From the airport to the centre: Option 1. BUS- takes 30 min and costs 25 HRK Option 2. TAXI- takes 15 min and costs cca 120 HRK From the ferry to our hostel: It's just a five-minute walk. Quick tip, if you're lost - just follow the big belfry with an angel on top, and there we are!!
Price from €16.00 per person
Must See & Do in Zadar
The City
Awakening from its traumatic past, Zadar is a beautiful seaside town that captivates the attention. With its historic old town paved by the Romans, squares with medieval churches and buzzing cafes, all surrounded by a 16th century Venetian fortress, everyone who has been through has left their mark. Wandering the gleaming white paved streets of Old Town, or visiting the beautiful waterfront, you'll feel the pull of the town's charm tugging at your heart. There are loads of events happening in Zadar throughout the summer. Top this off with pristine beaches, and it's clear there is something for everyone.
Top things to see
Sea Organ Experimental musical instrument where the waves produce music
The Greeting to the Sun Model of the solar system connected to the Sea Organ, which transposes the sound into a light show after sunset
The Forum The centre of Roman life.
St. Anastasia's Cathedral The largest church in Dalmatia
St. Donat's Church Unusual circular Byzantine style church with excellent acoustics, often used for concerts.
FOODS TO TRY:
Pagski sir
The cheese from the neighbouring island of Pag is famously good.
HIDDEN GEM:
The Sphinx of Zadar
Take a walk out to Brodarica and you'll find, quite unexpectedly, a real, stone sphinx. Sadly it's not Egyptian, but rather, a beautiful memorial to the wife of local artist Giovani Smirich, who built the monument after her death.