Timetable & Pick-up Location
Route runs between 13 May - 04 Oct, 2020. Next departure is on Wed, 13 May.
08:00am

Split

pick-up
10:45am

Zadar

optional stop
19:00pm Venice drop-off
---
Coach meeting point
Design Hostel Goli & Bosi Morpurgova poljana 2, 21000, Split, Croatia
from €16.71
Recommended Accommodation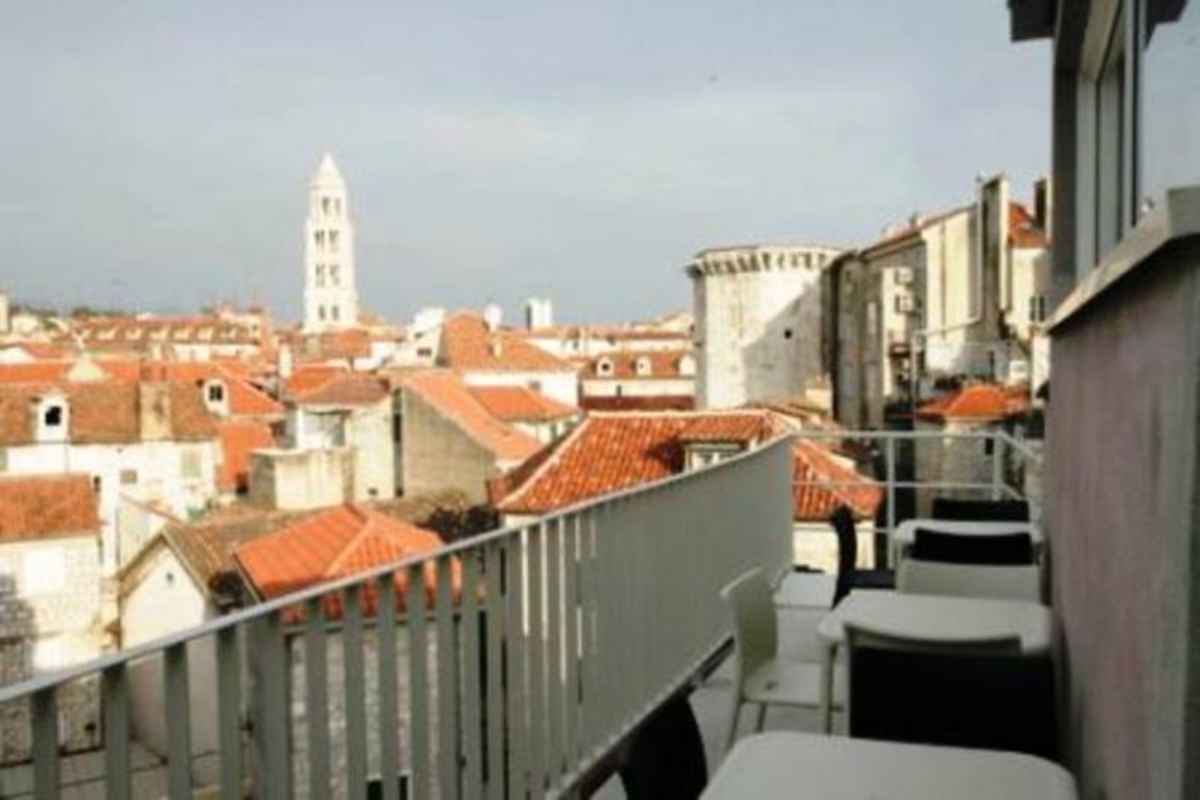 Busabout hand picks accommodation partners based on strict requirements to ensure our customers get the best possible experience.
Design Hostel Goli&Bosi
Visit the nearby Design Hostel Goli & Bosi, voted the 2. best hostel in the world! ...Yesssssss, the WORLD! Sooner or later every traveller through Croatia gets to Split, as this is where all the ferries to all of the islands start and return to. When you do, you will find Hostel Goli& Bosi a safe, clean and friendly place to lay your hat and call home. Goli & Bosi is a fresh new boutique Hostel occupying the best location in Split, rock throwing distance from the waterline, within the walls of the old roman city built at the turn of the 4th century. Recently renovated as of February 2016.. As architecture goes, Goli & Bosi is re-using a space of an old 19 century warehouse that in the 20th century got remodeled into a department store, and now, through some inspired cuts and bold design choices earned it's international acclaim. Two out of hostel's three storeys feature bright three and four dorm-style rooms with neat bathrooms, while the top floor offers more luxurious suites with double or single beds, a terrace with a view. All rooms have air conditioning, bedding comes with the beds and there are fresh towels in every bathroom with no additional cost. Common lounge areas are scattered through the hostel, there is a small cinema projection room and a huge sitting space on a square in front of the hostel, great for coffees, meals and meets. Wi - fi internet is freely available throughout the hostel. In itself, Goli & Bosi Hostel is a tourist guide as well, so if the weather is not nice enough for exploration of Split all you have to do is walk around the hostel whose walls will tell you the story of the city. With Hostel Goli&Bosi around the clock check-in options, whenever and wherever you arrive to Split all you have to do is call them in any language you speak and they will tell you how to get to the hostel, even arrange transportation for your convenience. Welcome to Hostel Goli&Bosi boutique Hostel and enjoy your stay in Split!
Service and Facilities
• Air Conditioning
• Bar
• Breakfast Not Included
• Elevator
• Telephone/Fax Facilities
• Free City Maps
• Free WiFi
• Hair Dryers
• Linen Included
• Security Lockers
• Luggage Storage
• Meals available
• Outdoor Terrace
• Reading Light
• Restaurant
• Towels Included
General Information
Check-in: 14h —20h
Address and Location
Morpurgova Poljana 2, Split, Croatia
From the airport Split - Katela (SPU): Location: By road 28 km/17 miles/30 mins. By Taxi: To Central Split cca HRK 200 (30)/30 mins. To Trogir 5-10 mins. By Bus: General: The long-distance inter-city buses run from the Bus station Split next to the ferry terminal and the railway station. It is about a 10 min walk from the city centre, heading SE. The local bus #37 to the airport & Trogir runs from the local bus station on Ulica Domovinskog Rata, about 10-15 mins walk N of the centre. The Croatia Airlines shuttle bus runs from another stop, closer to the city centre. It is at Obala Lazareta, and is on the sea front, at the start of the road towards the ferry terminal. Croatia Airlines Bus to Split: Runs from right outside the terminal to Obala Lazareta. It departs shortly after flight arrivals and takes 30-40 mins. There are no stops en-route. Children under 6 free. Buses depart the city 90 mins before the departures of Scheduled Croatia Airlines flights. Local Bus #37 To Split: Local bus #37 goes to Trogir Bus Station in one direction and to the local bus station (on Domovinskog Rata , see above) and Split in the other. There are many stops along the way including the Ancient Roman Amphitheatre at Salona. The airport bus stop for this service is outside the terminal. Cross the car park outside and head for the main road (about 200m). For Trogir use the stop on that side and for Split cross over. Route: Trogir Bus Station - Airport - Kastela - Solin (Salona) - Split Local Bus Station. Travel Times: To Trogir 10 mins. To Split 40-50 mins. There are shuttle vans and private cars/taxes running from this airport to Split, Dubrovnik & Zagreb city centers. IMPORTANT TIP: It is definitely worthwhile taking the Croatia Airlines Bus, especially since it takes you right to the city centre waterfront. However, the local bus runs regularly throughout the day. HOSTEL LOCATION: We are located cca 700-800m away from the city harbor (ferry terminal), bus and train station. Bus station Split is located in the very centre of the city, right next to city harbour and railway station. This is the location that enables quick and simple communication and passenger transfer. If you are coming from that direction, you should walk by the sea until you get to Obala Lazareta (where Croatia Airlines shuttle bus stop is) and turn left to continue along the city center promenade - RIVA . The starting point of the promenade is a public parking lot (our nearest parking); pass on towards palm trees and coffee shops on this most famous pedestrian zone of the city. 100m ahead youll see an entrance to the old city square VOCNI TRG with the statue of Marko Marulic on your right, right between two tobacco shops: Slobodna Dalmacija & Tisak. When you get to the statue, turn left and continue all the way down until the street comes to its end; turn left again and youll see the walls of our hostel right in front of you. The entrance is all the way round
Price from €16.71 per person
Must See & Do in Split
The City
Wandering the streets of Old Town Split will make you feel as if you have been transported back in time, to when the Romans settled along the shores of Dalmatia. The Old Town is located within the Roman Emperor Diocletian's Palace and today it is a living museum, alive with locals going about their business, cafes, pumping bars, trendy restaurants and many sights within. This is one hot destination you don't want to miss with its slow paced, relaxed Mediterranean vibe and a lot to offer visitors. Split is also the perfect place in which to go Croatia sailing and visit all the nearby spectacular islands.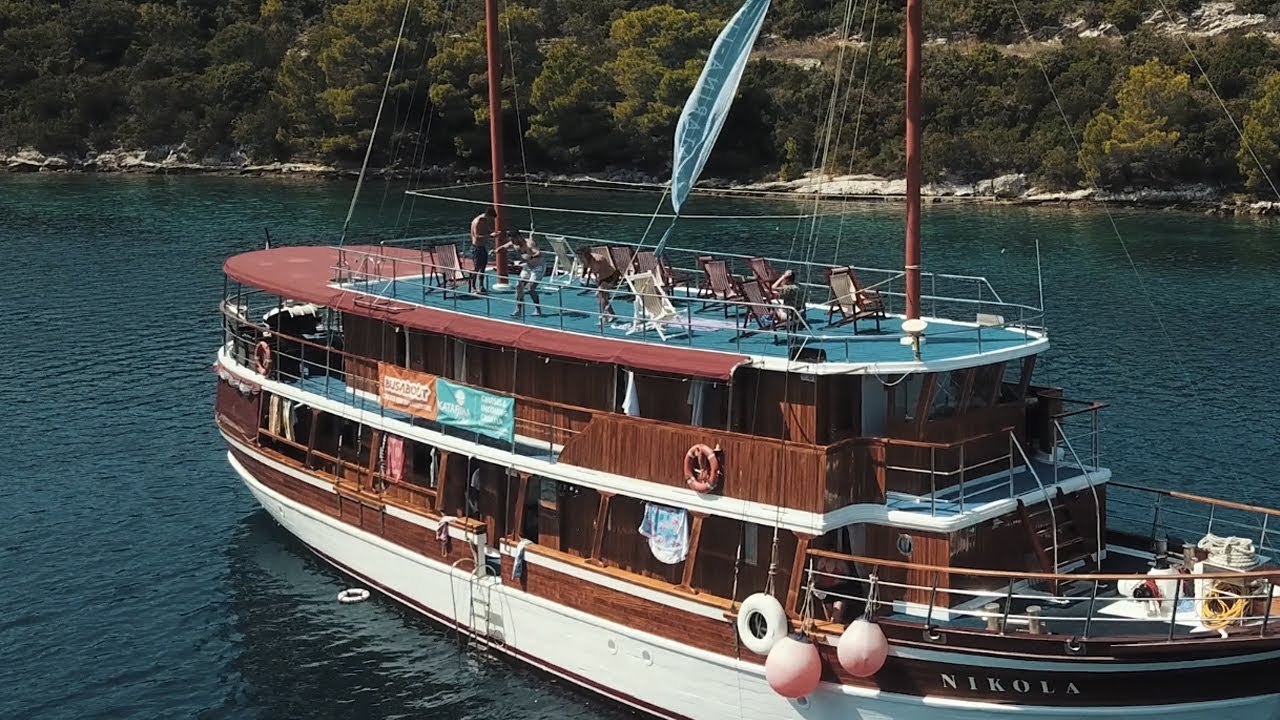 Top things to see
Diocletian's Palace The remains of the Roman emperor's palace form the basis of Split's pedestrianised old town.
Shopping at the markets You'll find a daily market near the wharf, a fish market in the old town, and more stalls in the cellars of Diocletian's Palace.
People watching on the Riva The oceanfront promenade, full of restaurants and coffee shops.
Varos and Marjan Hill Quiet, winding streets in Veli Varos lead eventually to the equally peaceful Marjan Hill, where you can see as far as some of the islands offshore.
Bacvice Beach A nice beach a short walk from the old town.
FOODS TO TRY:
Pasticada
A stewed beef dish cooked in sauce that originated in Dalmatia. It's a very time consuming process to prepare it, involving marinating the meat overnight and cooking for up to five hours. It's served with some kind of pasta or gnocchi.
HIDDEN GEM:
Vidilica Terrace
No terrace offers a better view than this, the whole of Split laid out before you - and islands beyond - from atop the Marjan peninsula.