Timetable & Pick-up Location
Route runs between 09 May - 30 Sep, 2020. Next departure is on Sat, 9 May.
10:30am

Salzburg

pick-up
13:00pm

Grunau

optional stop
17:00pm Vienna drop-off
---
Coach meeting point
YOHO's International Youth Hostel Salzburg Paracelsusstr. 9, A 5020 Salzburg, Salzburg, Austria
from €18.50
Recommended Accommodation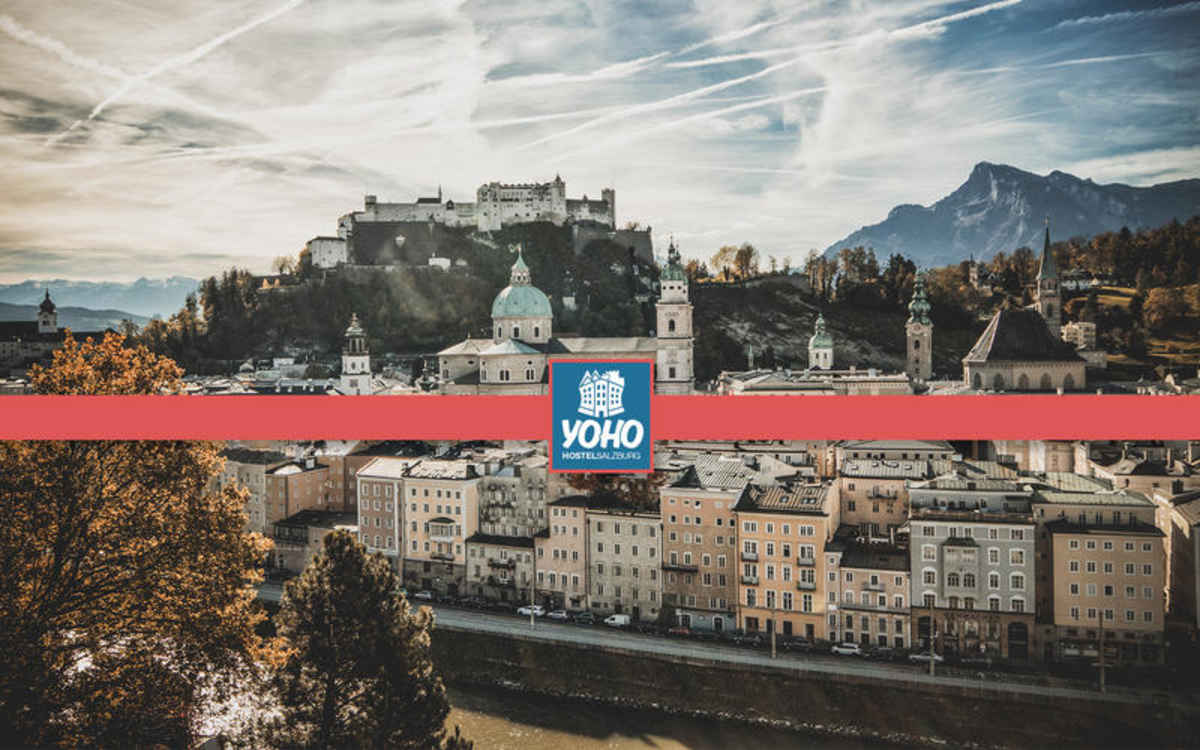 Yoho International Youth Hostel Salzburg
We recommend you stay with Yoho International Youth Hostel Salzburg. Rated 91% on Hostelworld.
From the hostel its only a 10 min walk to the city centre! Less than 10 min walk to the train… See all included services and facilities
Busabout hand picks accommodation partners based on strict requirements to ensure our customers get the best possible experience.
Yoho International Youth Hostel Salzburg
Welcome to Salzburg! The Yoho-Team, who is welcoming backpackers since 1978 is very happy to accommodate you. We have been a proud member of "Europe's Famous Hostels" for more than 25 years! We are located only ten minutes away from the main train station and three minutes walking distance to the world famous "Sound-Of-Music DoReMi steps". Our unique free city map will guide you to the main attractions in town. You can also make use of our bike rental service during summer season. We offer loads of free facilities including Wi-Fi, fresh linen, key-operated private lockers in the dorms, 24hr hot showers, book exchange. Also, for all your nostalgia fans, we are screening the "Sound of Music" daily at 8pm in our lounge. Start the day with a free small Breakfast (from 7.30am to 10.30am), get your daypack ready and explore the city. You can pick up the "24hr Salzburg Card" at the reception, which gives you free entrance to all attractions in the area. After an extraordinary day in town grab a cold pint of Stiegl directly from our receptionist and relax in one of our common areas. Get little snacks from one of our provided vending machines. We are prepared to accommodate you all year round. The reception is open from 7am to 12am, but you have access to the building 24/7! Check-In starts at 2pm. We also have a luggage room, which is free to use before your check-in. An essential part of our effort to make your stay in Salzburg as convenient as possible is the support of our international and multilingual staff. They will give their very best to make you feel at home, managing your accommodation on a total of three floors with various room sizes, including dorms (8-,6-,4-bed, male, female or mixed) and comfortable private rooms (Double rooms, Twin rooms, Triple rooms). All of them with keycard-operated lockers and recently renovated showers. We are looking forward to welcoming you soon! The YOHO-Team
Service and Facilities
• Adaptors
• Bicycle Parking
• Board games
• Book Exchange
• Free Breakfast
• Cable TV
• Common Room
• Dryer
• DVD's
• Elevator
• Telephone/Fax Facilities
• Free City Maps
• Free Internet Access
• Free WiFi
• Fridge/Freezer
• Hair Dryers
• Hair Dryers For Hire
• Hot Showers
• Housekeeping
• Internet Access
• Iron/Ironing Board
• Key Card Access
• Laundry Facilities
• Linen Included
• Security Lockers
• Luggage Storage
• Meeting Room
• Reading Light
• Reception (limited hours)
• Tours/Travel Desk
• Towels for hire
• Towels Not Included
• Vending Machines
• Washing machine
General Information
Check-in: 14h —23h
This property has a 2 day cancellation policy. Failure to cancel at least 48 hours before arrival date will result in a cancellation charge equal to the first night of your stay The balance (incl. 10% vat.) is payable on arrival at the property, in the property's currency. The price does not include the city tax € 1,55 (per person/night). Pay at arrival. Reception open hours: 7am - 12pm Check-In: 2 pm (but feel free to store your luggage in our free luggage room before Check In) Check out: 11 am Please note: MINIMUM AGE RESTRICTION IS 18
Address and Location
Paracelsusstr. 9, Salzburg, Austria
From the train station (HBF Salzburg): Use the back exit "Schallmoos" of the train station. Turn to the right and follow the street till the next traffic light. Take the 3rd exit and walk to the big street crossing. There turn right. The 4th house on the right side is the YOHO (Paracelusstraße 9) - that's it! (about 10 min walk) From airport: Take bus # 2 from airport to the train station. It takes about 25 minutes. Bus ticket is €2.90. Then follow the instructions given above. Or: couple more stops after the train station there will be a stop called 'Stelzhammerstraße'; turn left and take the next left ('Lasserstraße'); after 100m at the next street crossing just cross the road. It takes about same time as to walk from train station. By car: Take the highway exit Salzburg Nord. Then take the B150 (Salzburgerstraße). After 2.60 km (street crossing [supermarket "BILLA" is on the left side of the street]), you have to turn right into Sterneckstraße/B1. After 1.00 km (2nd street crossing) you turn left into the Paracelsusstraße. The 4th house on the right hand side is YOHO Int. Very important! If you are lost, please give us a phone call. Phone number is on your confirmation email.
Price from €18.50 per person
Activities & Day Tours
Sound of Music
As seen in the movie! Follow the traces of the Trapp family touring through Salzburg and its surroundings. Visit the original film settings and just imagine being Julie Andrews playing Maria von Trapp. Learn about the historical and architectural landmarks of Salzburg as well as the Lake District while enjoying the highlights of the movie.
Operated by SALZBURG PANORAMA TOURS
Busabout Price: €42
Normal Price: €45
Bavarian Mountains & Salt Mines Tour
Something very different awaits you at the Salt Mines. Wearing traditional miners' clothing, you enter the mines and hear the historical and legendary tales of the fascinating underground world. Using the same slides as hundreds of miners before you, you go down a 100-foot-long slide into the grottos, the magical world beneath the surface of the earth. With a raft ride on the salt lake and a miniature train ride we end our romantic and educational adventure. Duration: 4 hours.
Busabout Combo Deal - Bavarian Mountains & Salt Mines Tour + Eagles Nest = €83
Operated by SALZBURG PANORAMA TOURS
Busabout Price: €49
Normal Price: €53
Eagles Nest
This 4.5 hour trip crosses the Austrian-Bavarian border along the Königsee River Valley, through the Bavarian mountains and Obersalzberg. A bus and elevator will bring us to the Eagle's Nest. The adventurous bus ride along the steep rock walls and deep gorges takes about 20 minutes. During the journey you will have a splendid view up to the 'Hoher Goel' and across the snow-capped peaks of the Bavarian mountains.
Busabout Combo Deal - Bavarian Mountains & Salt Mines Tour + Eagles Nest = €83
Operated by SALZBURG PANORAMA TOURS
Busabout Price: €54
Normal Price: €58
Must See & Do in Salzburg
The City
The joke 'if it's baroque, don't fix it' is a perfect maxim for Salzburg; the tranquil Old Town burrowed in below steep hills looks as much as it did when Mozart lived here 250 years ago. Its cobbled streets are overshadowed by ornate 17th-century buildings, which are in turn dominated by the medieval Hohensalzburg fortress from high above. Across the fast-flowing Salzach River rests the baroque Schloss Mirabell, surrounded by gorgeous manicured gardens.
Top things to see
Hohensalzburg Fortress A fortress atop Festungsberg hill, one of the largest medieval castles in Europe.
Mirabell Palace A UNESCO heritage listed palace and gardens, where scenes from The Sound of Music were filmed.
Hellbrunn Palace A baroque villa of the Salzburg Prince-Archbishops with beautiful grounds and trick fountains.
Hangar #7 Hangar belonging to the owner of Red Bull with a collection of 25 historical airplanes, helicopters and Formula One racing cars.
The Salzburger Dom 17th century Baroque cathedral of Salzburg.
FOODS TO TRY:
Salzburg Nockerl
A light and fluffy dessert, similar to meringue, meant to imitate the shape of the mountainous region around Salzburg.
HIDDEN GEM:
Saint Sebastian's Cemetery
This 15th century cemetery is home to some big celebrities- Mozart's wife and father, and Wolf Dietrich, whose salt mines made Salzburg rich. But it's the creep factor that is most interesting. Skulls abound - including winged skulls, skulls with snakes emerging from their eye sockets, skulls on which angels prop themselves, skulls with hourglasses, skulls with a pick and axe for miner's graves, and skulls that hold holy water.