Timetable & Pick-up Location
Route runs between 30 May - 27 Sep, 2020. Next departure is on Sat, 30 May.
08:00am

Nice

pick-up
12:15pm

Avignon

optional stop
18:30pm Barcelona drop-off
---
Coach meeting point
Villa Saint Exupery Beach Hostel 6 Rue Sacha Guitry, 06000 Nice, France
from €15.95
Recommended Accommodation
Villa Saint Exupery Beach
We recommend you stay with Villa Saint Exupery Beach. Rated 80% on Hostelworld.
We're located 200 metres from Old Town and the beach. We're right off the main square Place… See all included services and facilities
Busabout hand picks accommodation partners based on strict requirements to ensure our customers get the best possible experience.
Villa Saint Exupery Beach
Villa Saint Exupery Beach is located in the heart of Nice, 20 metres from the main square, the beach and the Old Town. A huge buzzing bar with Happy Hours make it the ideal base for travellers of all ages looking for fun budget luxury on the Riviera. FREE Wi-Fi and Computer Access 24/7 FREE Guided walking tours of Nice FREE Maps and Travel Info FREE Ping Pong Table FREE Bed Linen FREE Luggage Storage and Security Lockers FREE live Sky Sports/ESPN FREE Gym and Sauna open 24/7. Cheap, filling and delicious breakfast(ham,cheese,salami,yogurt,fruit, cereals,fresh bread, juices,tea and coffee) every day from 7:15 until 10:30 AM. Daily Happy Hours in our bar with live Music and televised Sports. The perfect place to meet travelers from all over the world or to pick a movie in our TV lounge! ACTIVITIES & PARTIES The Riviera is an outdoor activity hub. We offer daily yoga and adventure tours such as PUB CRAWL, scuba diving, sailing, skiing in the Alps (December to March), canyoning, boat tours, water skiing and more. We also offer car rental service For night time action join one of our Parties at the bar. We have 24hr security and there's no curfew or lockout. There's something going on every week so check your confirmation email for our schedule of events! 3 COUNTRIES IN 3 DAYS : France - Italy - Monaco! You can soak up the sun and world-famous beaches of the Cote d'Azur; our knowledgeable staff can provide all the information you need along with local tips and maps anytime at reception. Visit Cannes, St Tropez, Antibes, St Paul de Vence, Monaco, Monte Carlo and Eze village in only 4 days!
Service and Facilities
• 24 Hour Reception
• 24 Hour Security
• Adaptors
• Air Conditioning
• Airport Transfers
• ATM
• Bar
• Bicycle Hire
• Bicycle Parking
• Book Exchange
• Cable TV
• Cafe
• Common Room
• Cots available
• Currency Exchange
• Dryer
• Elevator
• Flexible NRR
• Free City Maps
• Free City Tour
• Free Internet Access
• Free WiFi
• Fitness Centre
• Hair Dryers
• Hair Dryers For Hire
• Hot Showers
• Housekeeping
• Internet Access
• Internet café
• Iron/Ironing Board
• Key Card Access
• Late check-out
• Laundry Facilities
• Linen Included
• Security Lockers
• Luggage Storage
• Meals available
• Meeting Room
• Microwave
• Postal Service
• Reception (limited hours)
• Restaurant
• Servizi aggiornate
• Follows Covid-19 sanitation guidance
• Sauna
• Shuttle Bus
• Tea & Coffee Making Facilities
• Tours/Travel Desk
• Towels for hire
• Utensils
• Vending Machines
• Washing machine
• Wheelchair Friendly
• Wi-Fi
General Information
Check-in: 15h —23h
We accept Visa and MasterCard for amounts over 50EUR (3EUR credit card surcharge applies). Please note room rates do not include local 'Taxe de Sejour' of €0.90 per person, per night. Delicious, cheap and filling breakfast available at low cost. Please note that any cancellations must be notified directly to the hostel at least 1 day in advance of your scheduled arrival date. In the event of a no-show, the full amount of your accommodation will be charged to your credit card. If you cancel any individual night of your reservation, then the deposit for that night will not be refunded or transferred.
Address and Location
6 Rue Sacha Guitry, Nice, France
From Nice Airport: Cheapest airport taxi-shuttle (direct to the hostel). Call Sam to book in advance: +33 6 27 49 10 32 (english spoken). OR Take the new tram-line T2 from Terminal 1 or 2 (1.50€), and get off at the terminus, Jean Medecin. Exit the station and continue walking straight until you see the tram-tracks. Turn right and follow the tram line to the next stop, Massena. Go around the department store on your left (Galleries Lafayette) to find the Villa Saint Exupery Hostel! We are at 6, rue Sacha Guitry. From Nice Ville train station: Turn left at the exit and walk along to the tram stop (approx 3 minutes). Trams run every six minutes from 6am to 12.30am. By foot: Turn right and follow the tram lines for 2 stops to Massena (10 minutes). By tram: take the tram 2 stops in Direction Hopital Pasteur to Massena (5 mins, 1.50EUR). Walk around Galleries Lafayette department store and turn into Rue Sacha Guitry. We are at 6, rue Sacha Guitry. By car: Take exit 50 Nice Centre off the A8 Highway. Follow the signs for Nice Centre - Promenade des Anglais (Bord de Mer). With the sea on your right, follow the coastline along the Promenade des Anglais. At the Meridian Hotel and Casino Ruhl (on your left hand side) stay in the left hand lane. Take the second turning to the left which is signposted with a blue sign: Monaco-Menton Genes. Cross the main square (Place Massena) with the fountain on your right. Take the first left following the sign for Nice-Nord and drive straight onto Rue Alberti. Take the second street on your left, Rue Hotel des Postes. Take the second street on your left, Rue Sacha Guitry. Villa Saint Exupery Beach hostel is located at number 6 Rue Sacha Guitry on the left hand side.
Price from €15.95 per person
Activities & Day Tours
Bike Tour
The 3-hour tour will take you from the stunning beaches and eye-catching parks to the grand streets, majestic plazas and hidden Baroque churches or Belle Epoque palaces. There is one hill climb up to the Chateau Hill, where you'll experience breathtaking panoramic views of Nice. The pace of the tour is very relaxed & is accessible to anyone who can ride a bike!
Operated by NICE CYCLE TOURS
Busabout Price: €30
Normal Price: €35
E-Bike Tour - French Riviera
Get to see stunning views and hidden corners that you would not find in any guidebook. Thanks to our eBikes that ride like normal bicycles, you will make easy work of the hills thanks to the electric assistance. You will see the old Port of Nice, traditional fishing boats and Mont Boron City Park where the quiet roads are lined with olive and oak trees and every metre we climb opens up even more incredible views of the Mediterranean Sea, Mont Alban fortress, and the medieval Town of Villefranche.
Operated by NICE CYCLE TOURS
Busabout Price: €45
Normal Price: €50
Must See & Do in Nice
The City
Nice is the Côte d'Azur's most cosmopolitan city. It's a heady mix of old and new, ethnic and domestic, sunshine and smog: strollers, skaters, beach-bums, and business people jostle for position along the beachfront, while tower blocks and bistros stand side-by-side along the city's traffic-thronged streets.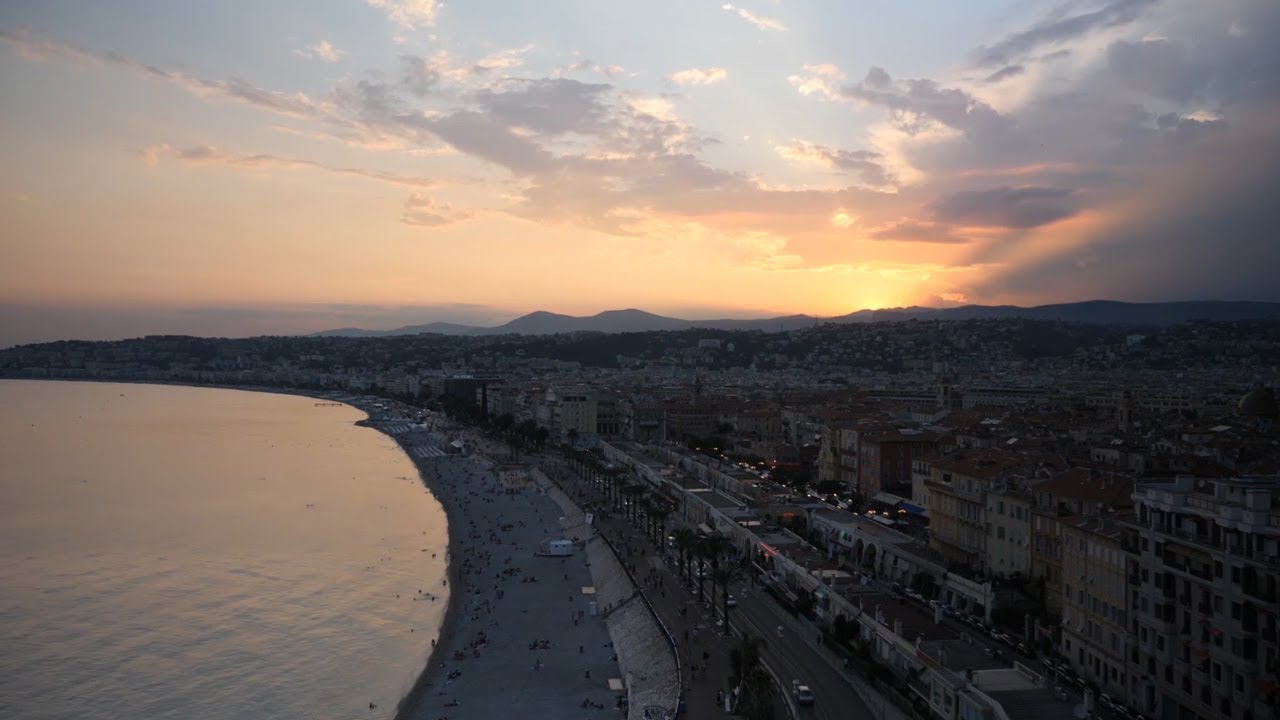 Top things to see
Promenade des Anglais The 'English Boulevard' is simply the best place to stroll, especially in the evening when the sun is setting.
Old Town (Vieux Nice) Getting lost among the winding streets of the well preserved Old Town is a highlight of any trip to Nice.
MAMAC (Museum of Modern & Contemporary Art) A museum dedicated to modern and contemporary art.
Chateau de Colline The old citadel of Nice, now a great place to walk with a fabulous view of the coast from the top.
Cours Saleya Flower and Vegetable Market The main street in the old town offers fruit, veg and flowers every morning.
FOODS TO TRY:
Socca
This flatbread made of chickpea flour can be found all over this region and in Liguria, but in Nice it's truly an institution. It's great alongside a cold glass of rose (another regional specialty), or else bought as a street snack from Chez Theresa on the Cours Saleya.
HIDDEN GEM:
St Nicholas Orthodox Cathedral
Perhaps a surprising find in one of the most famous parts of France, but the Russian aristocracy used to love to holiday on the French riviera, too. Before the revolution they financed their very own Orthodox church, which although seemingly out of place in the suburbs of Nice, is nevertheless beautiful in all its onion domed glory.