Timetable & Pick-up Location
La Spezia to Lauterbrunnen
Route runs between 07 May - 06 Oct, 2020. Next departure is on Thu, 7 May.
10:45am

La Spezia

pick-up
15:00pm

Lake Como

optional stop
20:00pm Lauterbrunnen drop-off
---
Coach meeting point
La Spezia Central Train Station (Stazione La Spezia Centrale) Piazzale Medaglie d'Oro, 19122 La Spezia SP, Italy
from €19.99
Recommended Accommodation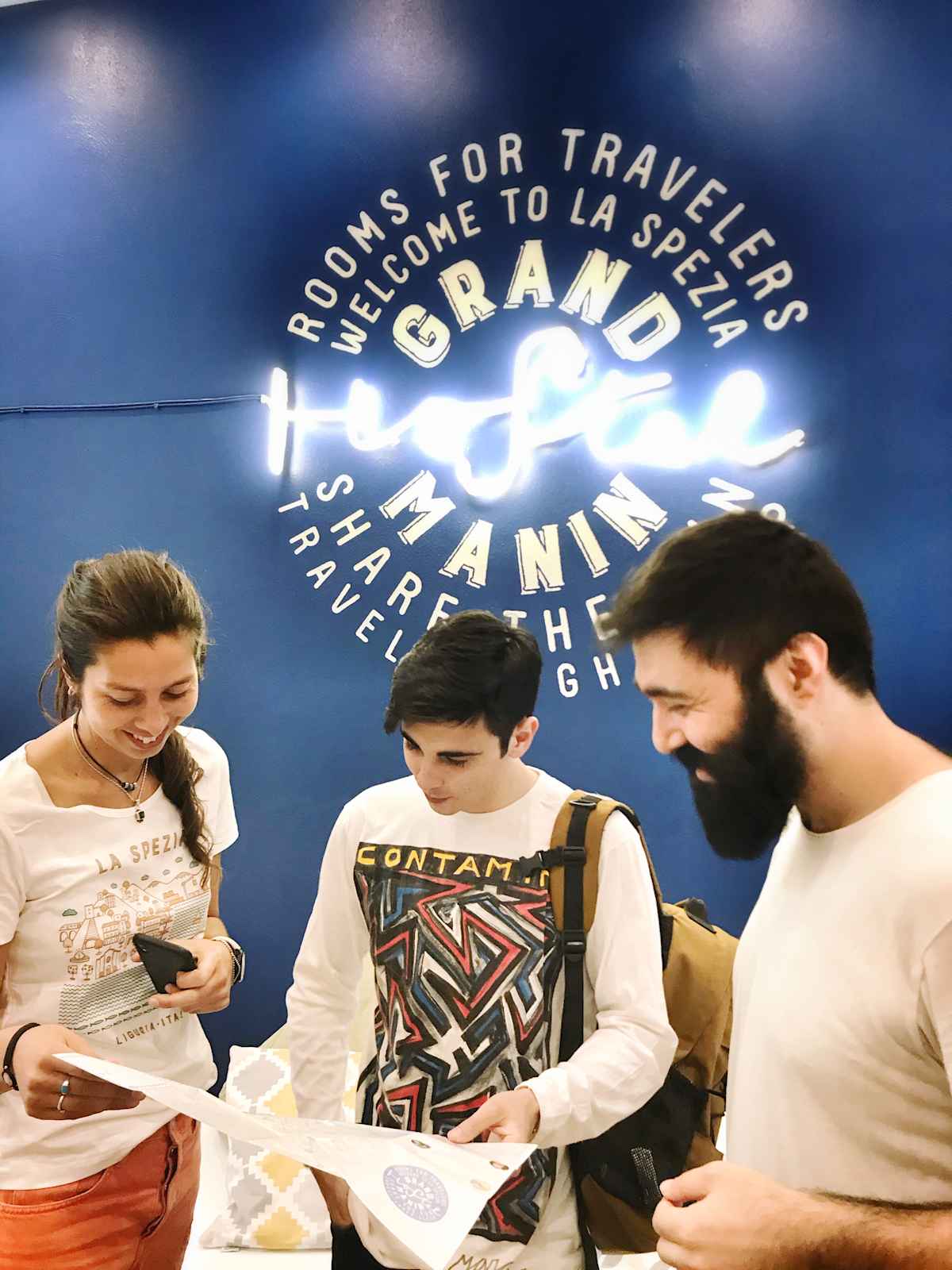 Grand Hostel Manin
We recommend you stay with Grand Hostel Manin. Rated 97% on Hostelworld.
La Spezia is strategically located: you can easily reach 5 Terre within few minutes by train,… See all included services and facilities
Busabout hand picks accommodation partners based on strict requirements to ensure our customers get the best possible experience.
Grand Hostel Manin
Welcome to our family hostel! We are Giulia and Cesare, two siblings with a passion for Italian hospitality. We believe that immersing yourself in cultures is the best way to travel; our mission as locals is to give you all the tools you need to have fun, make friends and experience the best of our incredible region. Both of us travel a lot and stay in hostels. That is why we built a homely-feeling place with all modern facilities a globe trotter needs - from social spaces, comfortable rooms and all the best advice we have from our years living the good life here in Liguria. La Spezia is strategically located: you can easily reach 5 Terre within few minutes by train, small nice villages on the seaside and beaches (such as Portovenere, Lerici; Tellaro) in 20 min by bus; also Pisa and Genova can be visited in a one day trip ( it takes between 1/1'30 h to get there by train) and Florence is about 2,5 hours by train. The hostel is in the heart of the city, walking distance from the train station (10 minutes), the harbour (5 minutes), supermarket, restaurants and pubs. PLEASE NOTE: During to covid emergency and until further notice we have to update / limit certain facilities in order to meet the law's requirement and guarantee the safety of our guests. - Our reception will work on appointment only, but we want to make sure we can welcome you properly, so please let us know your arrival time -Kitchen and common spaces will be still accesible but with reduced capacity and limited hours. - It's mandatory to wear a mask in all shared spaces - It's possible to cook, but not to store food in the kitchen -The free breakfast will be served in takeaway bags, we'll give you a variety of products to choose from, and we'll set it up for you Feel free to email us to get more info We truly want to thank you for your understanding and wish to get back to our full range facilities very soon! SERVICES AND FACILITIES: -free Wifi throughout the property -free breakfast -free towel on request -free shampoo and shower gel - free earplugs on request - personalised map with recommendations about attractions/food/activities (with discounts for our guests ) -power sockets and usb plugs for each bed -luggage storage before check in and after check out - hairdrier, Iron and laundry facilities are also available We're looking forward to meeting you!
Service and Facilities
• Air Conditioning
• Board games
• Book Exchange
• Free Breakfast
• Cable TV
• Common Room
• Cooker
• Flexible NRR
• Free Internet Access
• Free WiFi
• Fridge/Freezer
• Hot Showers
• Self-Catering Facilities
• Late check-out
• Microwave
• Reading Light
• Reception (limited hours)
• Tea & Coffee Making Facilities
• Towels for hire
• Utensils
General Information
Check-in: 15h —22h
Grand Hostel Manin's Policies & Conditions: Check in from 15:00 to 22:00. Check out before 11:00. Important! Check in after 23.00 is not guaranteed and must be agreed with the property in advance (extra fees may be applied) STANDARD RATE Payment upon arrival by cash or card. Cancellation policy: 72 hours before arrival. No show/ Failure to notify us of the cancelation before that time will result in a penalty of the cost of the first night of your stay. NON REFUNDABLE RATE No modifications allowed. The property has the right to charge the full amount (except the city tax) any time after the reservation. luggage deposit is allowed before check in but for security reason nobody will be allowed to drop the bag off before 8 am Taxes not included - occupancy tax 2.50 EUR per person per night (city tax) Breakfast included. General: No curfew. No animals. Towels available
Address and Location
Via daniele manin 8, La Spezia, Italy
From Pisa airport: Take the train/ bus to Pisa Centrale, from there change to La spezia Centrale From Train station 'La Spezia Centrale': after passing the traffic cirlce, take 'via del Prione', the main pedestrian street and walk until the end, where it crosses 'Via Chiodo'. Turn left and walk along via chiodo for a block then turn left at Via Daniele Manin, we are at number 8 just right after the pharmacy (along via Daniele Manin) you find us at the 2nd floor. From Highway A15: take the exit 'La Spezia', then take Via Giosuè Carducci and onceit crosses 'Viale Italia' turn left. Go straight for a couple of km and turn right in 'Via Alessandro Malaspina', then right again in 'Via Domenico Chiodo'. Destination is after 250 m on left side in a pedestrian street( via Daniele Manin). we are at number 8, just beside the pharmacy.
Price from €19.99 per person
Must See & Do in La Spezia
The City
Named after its five tiny villages, the UNESCO-listed Parco Nazionale delle Cinque Terre encompasses some of Italy's most picturesque and environmentally sensitive coastline. The villages are linked by the 12km Blue Trail (Sentiero Azzurro), a magnificent, mildly challenging 9km (five-hour) trail. The Blue Trail is just one of a network of footpaths and cycle trails that crisscross the park. If water sports are more your thing, you can hire snorkelling gear and kayaks.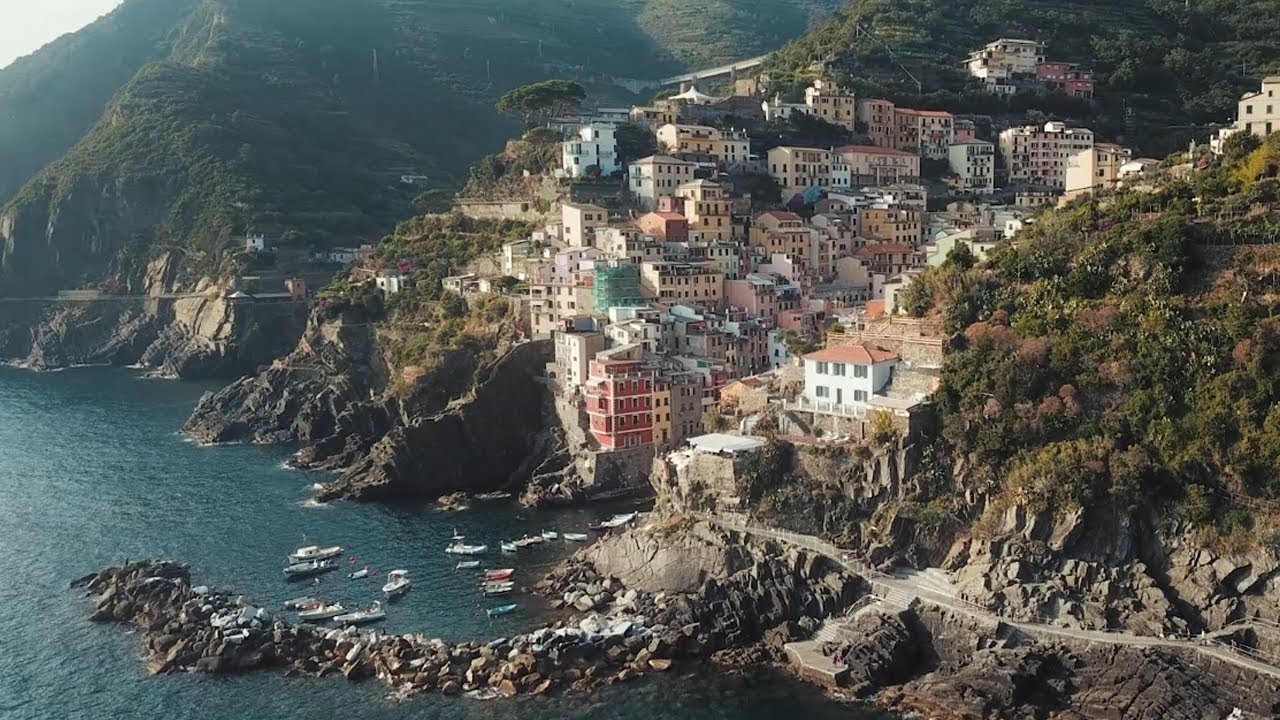 Top things to see
Visit the five villages: Riomaggiore, Manarola, Corniglia, Vernazza, Monterosso al Mare. Each village has its own character and something unique to offer, from the beaches of Monterosso, to the tiny, clifftop Corniglia, or much photographed Vernazza.
The Blue Path The most popular hiking trail along the Cinque Terre, the entire thing will take you about six hours, or you can spread it over several days, with plenty of photo and ice cream breaks in between.
Go to the beach! There are numerous beaches in the Cinque Terre region, whether you want to stay close or venture out a bit further.
Via dell'Amore The Path of Love is the most famous and romantic stretch of the Cinque Terre coastline, but has been largely closed in recent years since a 2012 landslide injured four tourists.
Visit Portovenere This UNESCO heritage listed medieval fishing village on the Gulf of Poets, is a short train, bus or boat ride away from the Cinque Terre and well worth a visit.
FOODS TO TRY:
Pesto
While Italy abounds with pesto varieties, pesto alla genovese is the most famous. It's D.O.P. protected, meaning it can only be made in a very precise way, with specific ingredients (including D.O.P. basil from Genoa), to be considered the "real thing." The ingredients themselves are simple–basil, pine nuts, Parmigiano-Reggiano, Pecorino, garlic, salt, and olive oil—and when it's done properly, it's absolutely delicious over penne or another pasta!
HIDDEN GEM:
Il Gigante
At the end of a popular beach in Monterosso lies a 14 metre high image of Neptune holding the waves It quickly became the symbol of the town, but allied bombs during WWII and years of rough seas have reduced the once mighty giant to an armless ruin.