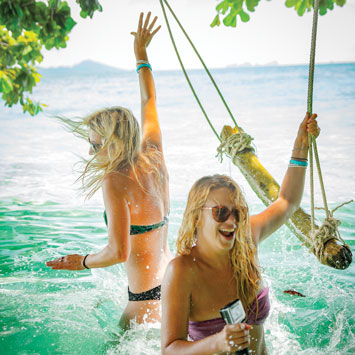 Flexible Thai Island Hopper

Phuket, Koh Phi Phi, Koh Lanta, Ao Nang (Krabi), Koh Samui, Koh Tao & Koh Phangan
Bummer dude. You lost a flip-flop, burnt your shoulders and have sand in weird places. But then again, who cares? These islands are so spectacular it's impossible to think about such minor issues. You'll be too busy drenching yourself in sunshine, gorging on curries and dancing till dawn. Our trips let you explore the islands at your own pace. Choose either the West Islands or the East Islands.
Trip Highlights:
Want to spend your time diving in Koh Tao? Do it.
Want to be the 24/7 party beast of the east? Do it.
Want to spend your days lusting over sexy beaches? Do it.
There are a minimum of two nights on each island
If you want to stay longer you can join another group
Stay as long as you like on each island
Expert, English speaking Guide on all departures
Pick-up and drop-off at our recommended accommodation
This is not a packaged holiday. You're in control of your Thailand Island Adventure. 'My Trip' is an easy to use online planning tool
Book your beds and itinerary with no booking fees
Thai Party Islands
Koh Phangan
Koh Phangan does the perfect party. Sunset cocktails on a white beach followed by pumping bars with soft sandy dance floors. The party ends when you want it to and the secluded beaches of the north provide the perfect hangover cure.
Koh Tao
The bohemian island of the east. It's got yoga classes, new age meditation and fire throwing lessons. But also the adventurous diving, jungle treks and watersports.
Koh Samui
The all-in-one island. It does all night parties, street stalls and hidden Buddhist temples. Diving, golf and watersports. Luxury, fancy cuisine and glam beaches. Needless to say you'll be spoilt for choice.
The Best Thai Beaches
Phuket
The largest island in Thailand. It was a trade port for the Ancient Greeks and a stronghold against one of Thailand's largest invasions. Now it's the beautiful host to many homes of the rich and famous.
Krabi
Home to essential tropical marvels. The sea faring mangrove tree, and the limestone karst. Not to mention the world famous Railay Beach.
Koh Phi Phi
Kind-of-like a Barbie doll. Skinny blonde beaches, a bit curvaceous in odd areas, unbelievable colours and fun to play with. The only difference is that in Koh Phi Phi you don't need to use your imagination.
Koh Lanta
Relax. This is a stress free zone. Your 'chores' will consist only of eating delicious food, brushing your teeth and deciding which beautiful beach you're going to next.