" Our crew's passion and enthusiasm is what sets them apart! "
You leave the cinema when the credits start, and why wouldn't you? You don't care who the Assistant Producer's receptionist was. Or who got lazy Owen Wilson out of bed every morning. You've seen your explosions and watched your saucy sex scene; so you're satisfied. And it's the same when someone tells you about their trip to Europe.
They show you the pictures of the superstar buildings and reveal plots about cuisine and culture, but they never give you the full credits. And we understand why. It's because you don't care that your friend's bus was on time every day, or that their Guide gave them awesome tips in Paris. But when you're travelling with us, we know you'll find out the truth.
You'll discover that the supporting roles deserve just as much praise as the lazy superstars get. So here's a few reasons why you'll love these guys just as much as that famous gondola ride in Venice.
The Big Buses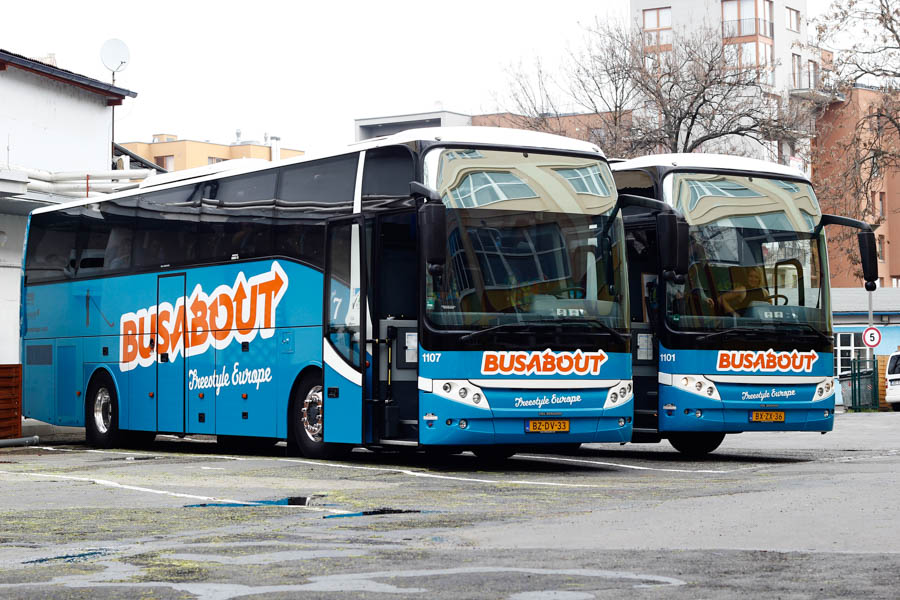 We're realistic, we know our buses are never going to be as sexy as your rich friend's dad's Lamborghini and that no matter how nicely we decorate our vehicles, they're still big buses.
But it's not important, because what matters is what's inside. We know our buses work as well as Lamborghinis, go as fast as Lamborghinis*, and we definitely know you can have just as much fun in the backseats of our buses as you can in the front seat of a Lamborghini!**
*This is technically true, because the speed limits are usually the same for Lamborghinis and buses.
**This is also technically true, unless Lamborghinis are your favourite thing in the whole wide universe.
Action Packed Journeys
There are a lot of companies that love 'small group travel'. But we don't, because if you're stuck with nine people you don't like, it could be awful. Whereas on our 55 seat coaches you can quickly make new friends if you need to, and there's definitely a lot more potential on a 55 seat coach!
We've seen a lot of action on our buses; from people changing their entire itinerary to learning new languages and becoming a lot more than 'just friends'! But the point is, on reflection you may even find that these are some of the best times on your trip. It's where you share the stories, catch up on gossip, and read your favourite book!
The Comforts of Home
Europe has some of the most incredible scenery out there, full stop. As we drive through the inspiring sight of the Dolomites, the otherworldly beauty of the Alps or the never-ending Iberian countryside, looking out the window will feel just like watching a nature show in high definition.
In the unlikely event you get tired of marvelling at the spectacular views, just sit back and enjoy the comfort of your chair. We have onboard WiFi, safe storage for your bags, and a great selection of travel movies to keep you entertained. It's like being home, away from home, enroute to a place you will probably want to call home!
The Crew
Dream Makers
During training, our Guides embark on a two-month whirlwind trip through Europe to uncover all the secret (and not so secret!) gems each place has to offer. By the end of it they'll know Europe like the back of their hands and will be eager to ensure you have a great time all around.
What's more, they're always be on hand to share tips and advice! We know you'll like them because, like you, they're also travellers. Don't be surprised if you end up joining an impromptu city guided tour - they're that passionate about their jobs!
Better than Siri
From the average flight speed of a German pigeon, to the best photo stop in Lisbon: your Guide pretty much knows everything in the world. What's more is they're trained to have the patience of a saint. So you can ask all those questions that you'd usually flood Google with.
No matter how much data Google has on you, we're sure our Guides will understand you way better and give you far better advice because they have feelings, whereas Google doesn't and never ever will.
Drivers
These guys do way more than just get you from 'A to B'. They monitor the traffic radio to make sure you get everywhere on time, they take you to the most scrumptious motorway delicatessens in the world, they'll even come out to party with you if they've got a day off the next day! We sometimes even think some of these guys know as much as your Guide does so don't be shy, ask them some annoying questions too when they're not driving.