Timetable & Pick-up Location
Route runs between 06 May - 05 Oct, 2020. Next departure is on Wed, 6 May.
12:15pm

Siena

pick-up
15:00pm Florence drop-off
Approx duration 2h45m. Coaches will pick-up passengers every 2 days.
---
Coach meeting point
Camping Siena Colleverde Strada Shiacciapensieri, 47 53100, Siena, Italy
from €25.00
Recommended Accommodation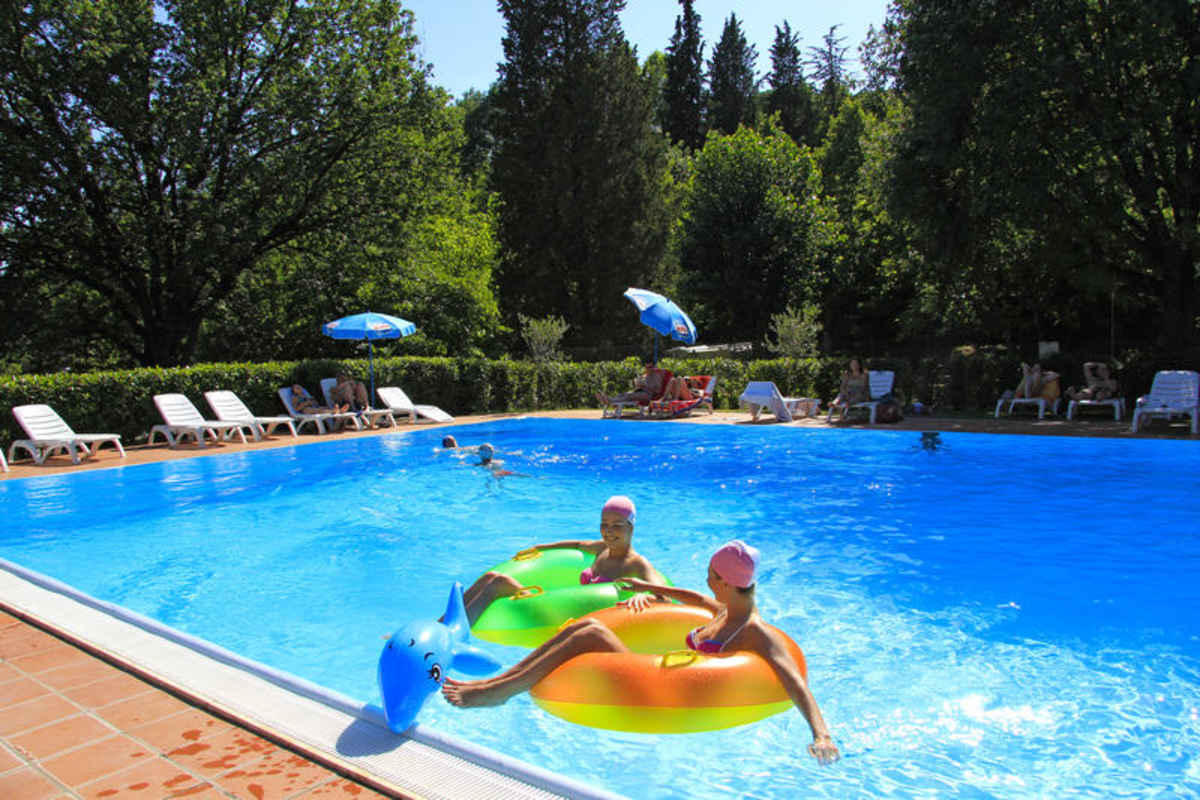 Busabout hand picks accommodation partners based on strict requirements to ensure our customers get the best possible experience.
Camping Siena Colleverde
Camping Siena Colleverde is the Campsite in Siena and is in a great location. We are 1km from the train station, and only 2.5km from the Historical Centre. Not only is it so close to the City Centre, but it also has a great view of the city, and just behind it are the Chianti hills, a great place to relax! Camping Siena Colleverde has been completely renovated in 2008, so on site you will find a brand-new bar, pizzeria / restaurant (open from 23/03 till 31/10) , market, WiFi area, laundry facilities and swimming pool (open from 01 June till 15 September weather allowing) with a small pool bar. Also the little towns of Montalcino, Montepulciano, Monteriggioni, San Gimignano are only a few kilometers away. To reach the city centre there is a bus that stops directly in front of the Campsite. It is a public service and runs every half hour until midnight. But you can also walk as we are so close to the city Centre!! We also organise van tours (Brunello wine tour, Chianti & Castles or San Gimignano) Bus tours to Pienza/ Montepulciano, Florence and Uffizi ecc. Plus if you are interested we can arrange for Horseback riding or cooking classes Check in: 8.00-23.00 hours Check out: 11:00 AM Payment upon arrival, cash or card (american express not accepted) We provid bed linen and a small towel in the rooms ***PLEASE NOTE*** from 01.03.2017 till 31/10/17 the city council of Siena has implemented a TOURIST TAX of 1,50 per person per night and from the 01/11/17 till 28/02/18 a TOURIST TAX of 1,00 per person per night. This is to be paid directly to the campsite and is not included in our prices. (children under 12 do not pay the tax).
Service and Facilities
• 24 Hour Reception
• Bar
• Book Exchange
• Breakfast Not Included
• Telephone/Fax Facilities
• Free City Maps
• Free Parking
• Free WiFi
• Hot Showers
• Linen Included
• Mini-Supermarket
• Outdoor Swimming Pool
• Parking
• Restaurant
• Swimming Pool
• Towels Included
General Information
Check-in: 0h —23h
***PLEASE NOTE*** from 01.03.2014 till 31/10/14the city council of Siena has implemented a TOURIST TAX of 1,50 per person per night for the first 6 nights and from the 01/11/14 till 28/02/15 a TOURIST TAX of 1,00 per person per night for the first 6 nights. This is to be paid directly to the campsite and is not included in our prices. (children under 12 do not pay the tax).
Address and Location
Strada Shiacciapensieri 47, Siena, Italy
To get ot the city you take bus n3 from 7.44-20.12 which passes every 30 minutes, or bus n8 from 6.20-23.59 which also passes every 30 minutes. To get back fromt he city take bus n3 from Piazza Gramsci or bus n8 from Piazza del Sale. From the Train station in Siena If you arrive during the day You can take bus 3 direction Due Ponti or line 8 to the camping, by foot we are about 1.6 km from the station you come out from the station and turn left and come to a roundabout and a big brigde go to the left until you come to the next round about where you also see a big supermarket called COOP. Along the left side of the coop the street is called Strada di Malizia go all the way up untill the end and at the stop turn right and after 100 meters you will find the camping. From Pisa Airport There is a bus company called Train that goes from Pisa Airport 'G. Galilei' to Siena P.Gramsci.
Price from €25.00 per person
Must See & Do in Siena
The City
Famous for its crazy horse race (Il Palio), Siena is one of Italy's most enchanting medieval towns. Its walled centre, a beautifully preserved warren of dark lanes punctuated by Gothic palazzi, piazzas and eye-catching churches, is a lovely place to get lost. The action centres on Piazza del Campo (known as Il Campo), the sloping scallop that serves as a communal sunbed to scores of day trippers.
Top things to see
Piazza del Campo and Mangia Tower Siena's main public square, one of the most beautiful in Europe. Climb the tower's 400 steps for a beautiful view.
Duomo Great Gothic cathedral filled with treasures by Pisano, Donatello and Michelangelo as well as frescoes by Pinturicchio.
Museo Civico The city museum,situated in the city hall on the main square.
Complesso Museale Santa Maria della Scala One of Europe's first hospitals and one of the oldest surviving in the world. Now a museum, it was once an important civic hospital dedicated to caring for abandoned children, the poor, the sick, and pilgrims.
Loggia della Mercanzia An old building near the Piazza del Campo. Built in 1417, the Loggia della Mercanzia was the meeting place of Siena's merchants and moneylenders.
FOODS TO TRY:
Ricciarelli & panforte
Ricciarelli are amazingly pure, almond-flavored cookies that literally melt in your mouth, and panforte is an ancient treat made with honey, dried fruit, nuts, spices and pepper that can be bought just about anywhere in town, either festively pre-packaged or by weight.
HIDDEN GEM:
Botanical garden
Admire a few lemon trees whilst looking out for Renaissance painter Il Sodoma's ghost, who is said to haunt the gardens.