" Planning a Eurotrip? Get some inspiration from our top suggested routes for this year. "
We know your type. You decide your new year party after the fireworks; you only know what club you're going to at 2am on Sunday; and you've only ever shopped for food on the day you've eaten it. You're totally allergic to plans. And that's fine. You're not a FOMO freak, a dreadlocked hippy, or a liquorice-cigarette-smoking Kerouac type. You just like to keep things flexible in case something better comes up. But here's the thing.
When you travel, it doesn't hurt to have a teensy-eensy-weensy little peek at plans. You know, just to get an idea of what's coming. It ensures you don't end up at the Eiffel Tower, looking at your calendar, and thinking 'holy smokes, I'm 923 miles away from that preposterously banging festival in Budapest!'.
So, to help you out, we thought we'd show you some of the best routes you can do on our Hop-on Hop-off Network. Get inspired by them, rip them off completely, or just keep listening to that Bob Marley tune and do your thing as you go.
For Completionists Only: Amsterdam to Paris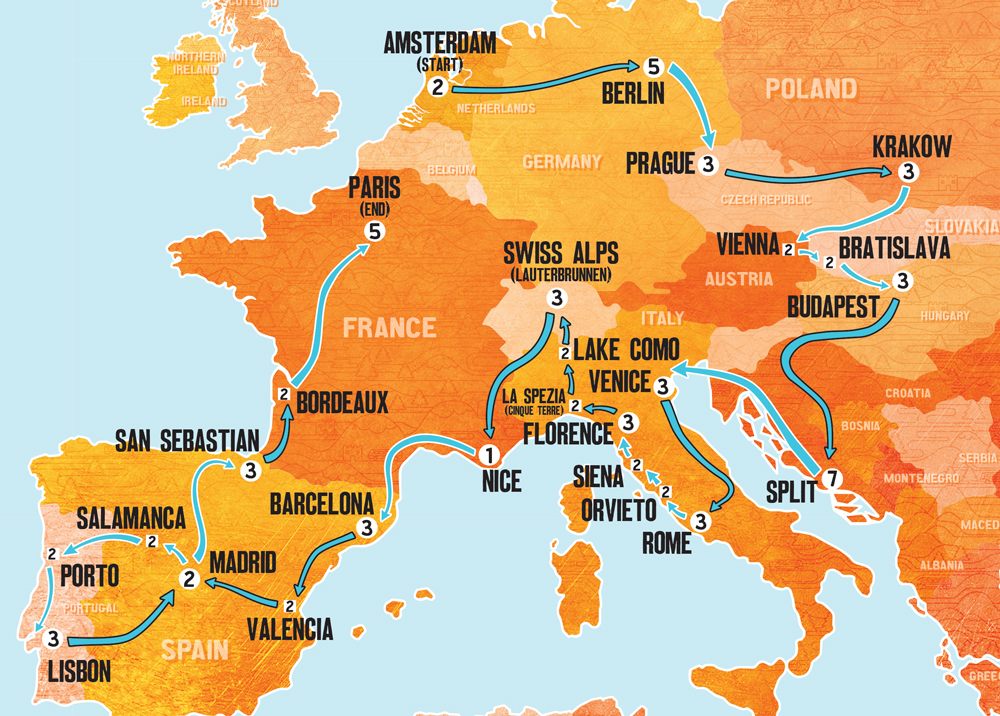 Do you need 100% video game achievements? Do you put water in your empty can of tinned tomatoes, so you get every last inkling of tomatoey goodness? Do you swipe on Tinder until there are no profiles left? If this rings a bell, then this is the plan for you.
It's like gorging on all Europe's beer, pizzas, art and beaches until you're ready to vomit. Except this vomit consists of chunks of gorgeous pics, culinary skills and meaningful memories.
(And don't worry, we're working that little 100% achievement badge)
East Meets West: Berlin to Lisbon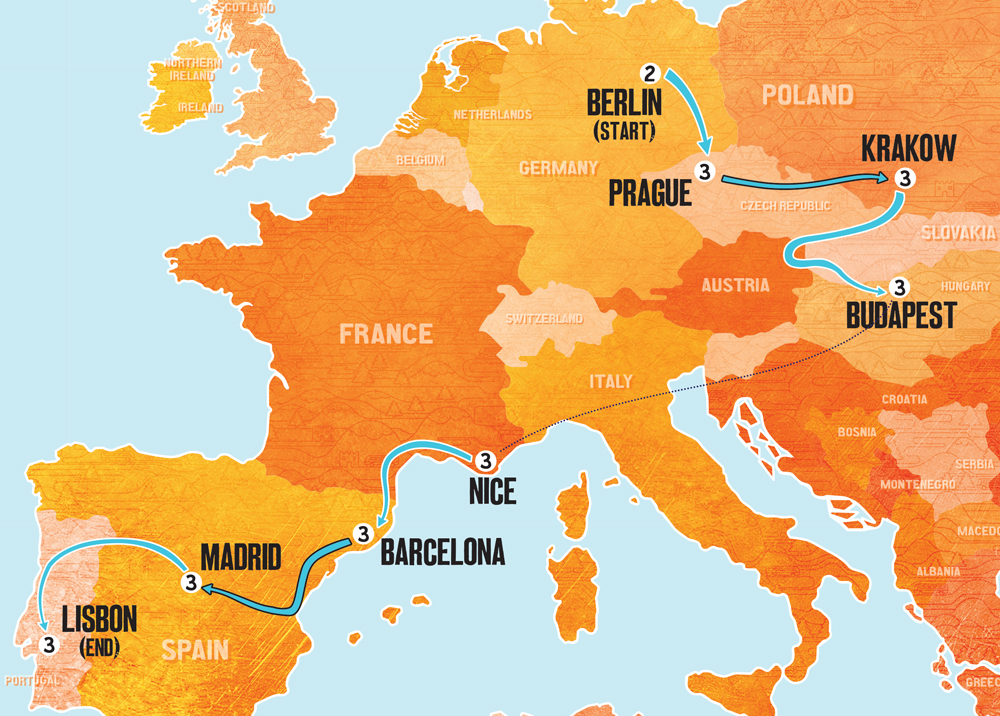 This route looks as crazy as it is.
Start off in Europe's party capital. Venture through the 'I-can't-believe-my-phone-already-has-a-thousand-bajillion-images-on-it' cities of Prague and Krakow, and end up in Budapest. Perhaps here you relax at the baths. Or better yet, you party your nuts off at the one-and-only Sziget Festival.
And now you're as pasty and rough-looking as a sleep deprived albino sloth; so you fly over to Western Europe to enjoy replenishing sunshine and nourishing chorizo. Perfect.
Haters-be-Haters: Barcelona to Rome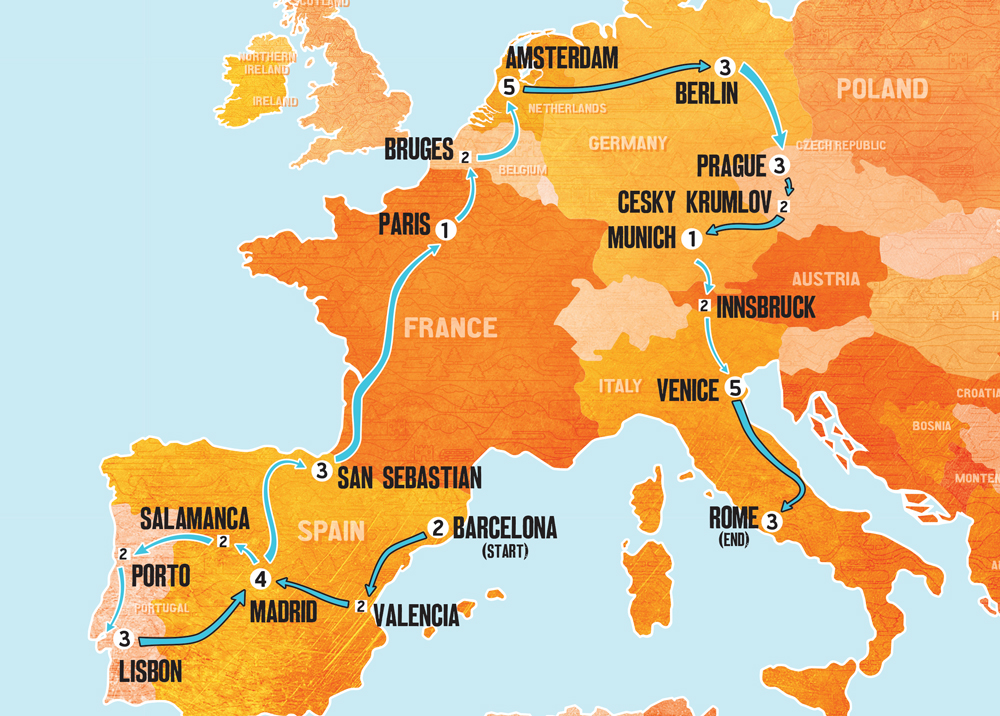 You'll be blocked on Snapchat, unfriended on Facebook, and muted on WhatsApp. But who cares? because they're just jealous. Your posting schedule will begin with seafood paellas, Spanish hotties and bohemian beach life. They'll then progress to cultural city centres and a hundred-thousand Eiffel Tower profile pictures, before getting dark and seedy in the night clubs of Berlin. Your last posts will be dripping with delicious gelato and Roman ruins.
Your photos will be so awesome, you'll realise that perfect pics are way more important than jealous friends.
Don't Be Embarrassed by a Small Plan: Berlin to Amsterdam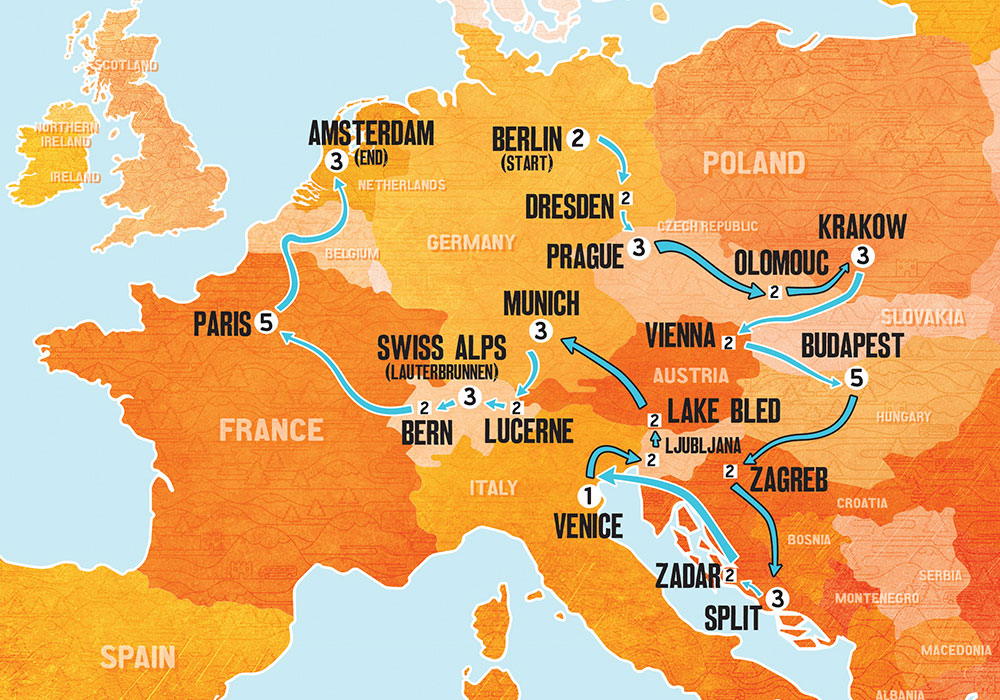 DO NOT LOOK AT THIS PLAN HUNGOVER. It's confusing and looks like someone spilt spaghetti all over lovely Europe. But that's because this route is brimming with flavour. It ventures into Eastern Europe, where you can get your adrenaline fix at Lake Bled. It traverses the Swiss Alps giving you a chance to ski and drink the steamiest, thickest hot chocolate you've ever tasted. And also gets you to Paris, where you can say 'croissant' in that accent you've always dreamed of using.
This route is confusing, mind-boggling and eye-opening. So, just make sure you've got that pedantic organised, control-freak friend to keep you on track.
Squiggly Lines of Love: Prague to Prague via Split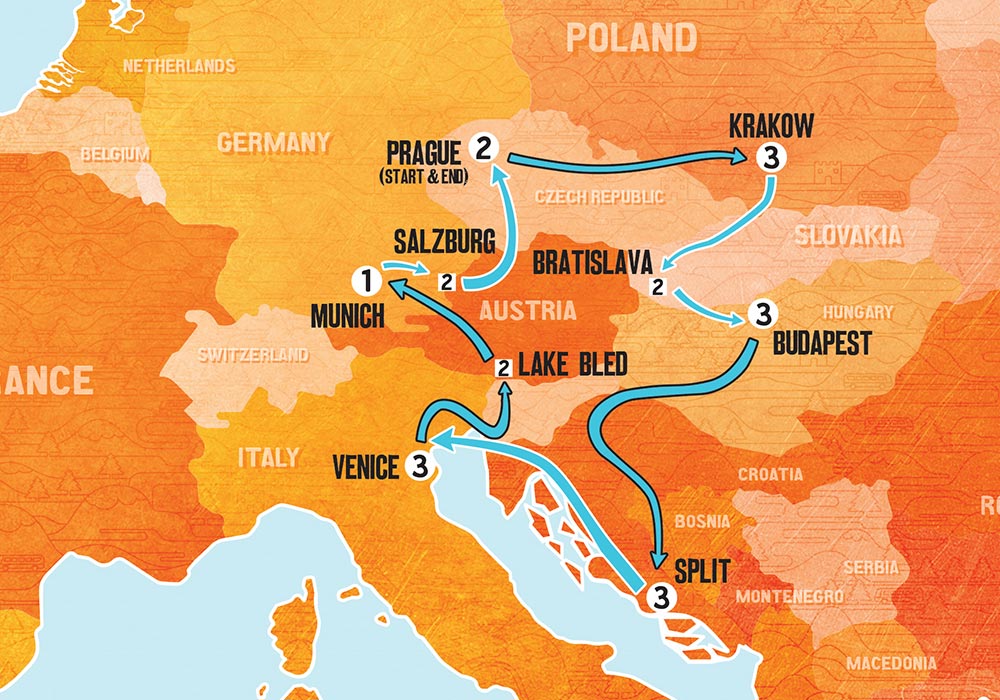 Your plan may not be big. They may even make fun of you because of the size of your plan. It doesn't matter, because this route proves that seriously small packages pack-a-punch. What's more is that on this route you'll head off the beaten track and see all the best bits of Eastern Europe. There's mountains, cracking Krakow, and the larger than life city of Venice.
So don't be ashamed of your plan. What matters is what you do with it.
The World is Your Classroom: Paris to Swiss Alps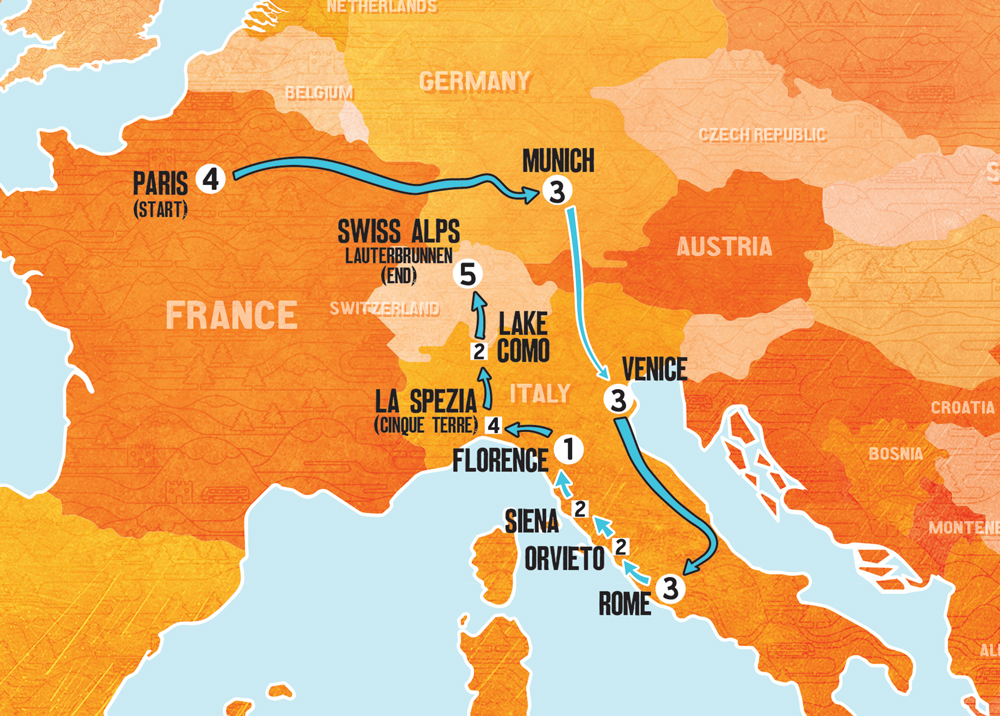 Impress mum and dad, lecturers, school teachers, grandparents and future grandchildren. Because this is a trip that truly tackles European culture. You'll understand what this whole renaissance thing is about. See some of Mother Nature's most gloriously pointy mountains; and drink more fancy espressos than Satre and Camus managed in their existentialist lifetimes.
At least, that's the version of the story you'll be telling…
Greed is Good: Amsterdam to Paris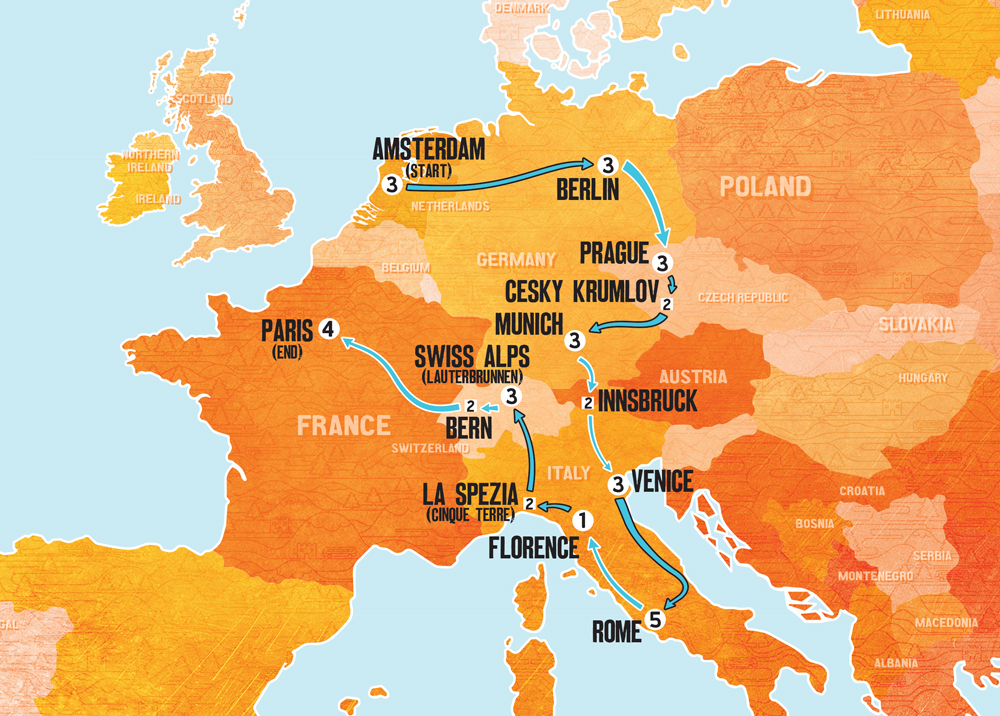 How on earth is greed a sin? Especially if you're only greedy for Renaissance art, Alpine scenery and bratwurst. This route combines the majesty of the Alps with the culture of Italy. It lets you experience the dark nightlife of Germany while supplying you with a truly crunchy-crusty French baguette. It's greed epitomised.
But you won't feel guilty. Because you'll go on this route and learn that too much of a good thing, is simply, just another good thing.
You Get Enough Holiday Days: Amsterdam to Amsterdam via Prague / Paris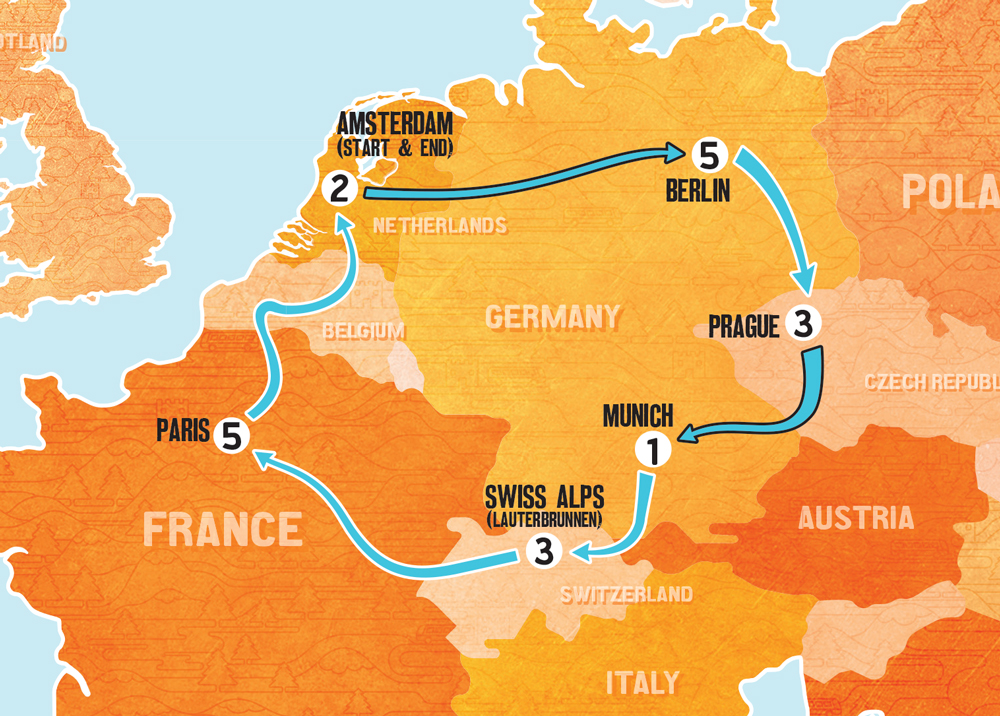 Show your boss that 30 days a year is actually too many holiday days. Prove that if you had any more days, you'd be so exhausted that you couldn't actually function on Excel. Cram fun into every crevice on this short European route. It's Germany, the Czech Republic, France and Amsterdam.
Although you've done this within your holiday allowance, it's probably best to keep your tagged photos tight on the privacy settings. You know what we mean...